Land's End to John o'Groats to Skaw by Electric Motorcycle (2017)
Background
In early 2017, I was talking with a couple of fellow electric vehicle (EV) owners and YouTube vloggers who've gone on to become friends: James and Kate, about an event due to take place on Orkney in May. The event was an EV meet-up around a visit by actor and EV advocate Robert Llewellyn, who went with a film crew to Orkney to film some items for his YouTube channel, Fully Charged. James asked if I planned to attend.
At this stage, I had already planned a round trip around mainland Europe with fellow and old friend, biker, Chris, and my Germany-based younger brother, Peter, so the prospect of a few days up in Orkney in May eating into holiday time was not a priority in my mind, and so I decided against the trip, with the flippant comment,
"Perhaps I'll attend next year, if one takes place, and I'll ride up on the Zero electric motorbike. Hell, if I'm going to do that kind of journey, I might as well head up there from Land's End."
On returning home, I did an initial cursory search for any trips people had done on an electric motorbike from Land's End to John o'Groats, but was surprised to find none. Electric cycle, yes; even a mobility scooter; but nobody had done the journey on an electric motorbike from what I could see. Further, more thorough searches also drew a blank, as did a search in the Guinness Book of Records.
I had a quick chat with my wife, Emma, about this and said,
"Wouldn't it be good to be the first to do the trip by electric motorbike?"
She agreed and, as usual, was completely supportive to the idea.
The fact of the matter is, of course, the main reason that nobody had done the journey was simply down to the small number of motorcyclists who own an electric motorbike, but there was another, more obvious challenge in undertaking the journey: namely of power management. More on that presently.
It also made sense that if I was going to do the journey, that it should benefit a cause or two in the process, so I decided to use the opportunity to do some fundraising at the same time.
I am a member of Coventry and Warwickshire Advanced Motorcyclists (the local branch of the Institute of Advance Motorists) and an observer with the club, so one of the reasons I bought the bike in the first place was that it lends itself ideally to training purposes on our check rides, where I follow an associate member and give feedback on their riding in preparation for them undertaking the advanced riding test.
There are also a number of members in CWAM who are involved as volunteers with our local blood bikes group, Warwickshire and Solihull Blood Bikes, who provide in invaluable service to the NHS out of hours by transporting blood, tissue sample, x-rays, drugs, and anything else required quickly between hospitals. They are constantly raising funds to maintain the fleet of bikes used for the runs they have to do, so that seemed to be the most appropriate cause and could potentially save anyone's life at any time.
While plans were formulating in my head, James contacted me and asked whether I'd mind if he accompanied me on the trip and wondered whether my dealer, Streetbike in Halesowen, might be prepared to lend him their demo electric bike (a Zero SR – more of a dedicated road bike) for the purposes of the trip. I contacted Streetbike with the idea and to my surprise, they were very supportive, especially considering that we planned to use the trip as an opportunity to do some fundraising on the back of the journey.
With James on board, in addition to raising funds for the blood bikes, we decided to split the fundraising efforts for Tommy's – a pregnancy support group, close to his and Kate's heart.
Charging
The electric motorbike I own, the Zero DSR ZF13.0 (2016 model) is capable of around 80-100 miles on a single charge, but this all depends on how and under what conditions it is ridden. The bike is charged using an IEC lead, more commonly called a kettle or PC lead, which plugs into the side of the bike and charges it using the bike's onboard 1.3 kW charger.
The bike is fitted with a nominal 13 kWh battery, but in fact 11.4 kWh of the battery is usable. The battery chemistry used is Lithium Nickel Manganese Cobalt (NMC). NMC differs from the Lithium-Cobalt used in phones and laptops. The latter ages quickly and doesn't cycle (recharge and discharge) as well, making it unsuitable for the purposes of powering an electric motorbike. NMC should be good for 10 years, but is in any case warrantied for 5 years, which is longer than the warranty on the bike.
At 1.3 kW, using the bike's on-board charger, a full charge from empty would ordinarily take around 9 hours. That's fine for day-to-day trips, my check rides when observing, and the odd club social ride, but it poses a problem when undertaking an 850ish mile journey from Land's End to John o'Groats. Unless I was prepared to wait 9 hours between charges, which could spin the trip out to take several days, I had to find a way of charging more quickly.
Unlike most electric cars, the Zero doesn't have a rapid charge capability, where the battery can be charged to almost full in around half an hour. The quickest way to charge the bike would have been to install the optional Charge Tank, offering a 3 hour charge time using an additional onboard charger, installed where the fuel tank sits in normal petrol bikes, but this comes in at the princely sum of around £2500, which in my case would represent a large sum of money for not a great deal of benefit.
The other realistic alternative (aside from third-party solutions, which might threaten the validity of the bike's warranty) was to use Zero's external 'Quiq' charge units. These resemble large power packs with standard domestic plugs and can be plugged into the bike's auxiliary charge port, each one boosting the charge rate by a further kilowatt. One, two, or four can be used on an individual bike, each adding an additional kilowatt of charging, but again, these don't come cheap as an optional extra at around £700 each.
They also agreed to contact Zero's European head office in the Netherlands with a view to obtaining four external quick chargers for the duration of the trip, which would allow us to keep charge times during the day to around three hours. They genuinely couldn't have been more accommodating and helpful in this respect.
On the basis of two of us undertaking the journey, we'd require six standard power sockets for each charging stop, which would support a combined electrical draw of 6.6 kW. For those in the know, that's not the kind of power you can draw safely from one power socket down a standard extension lead. We could reasonably manage with four sockets at any stop, by running each pair of external chargers through a two-way extension, since that would only draw 2 kW per pair, and then the on-board charger would draw 1.3 kW from another socket. Four sockets didn't appear to be too difficult a prospect to find at a stop, but there was also another possibility.
There are three levels of charging standard electric cars. The slowest, called 'slow' charging involves charging a car using a standard domestic socket and, using a 24 kWh Nissan LEAF as an example, will take around ten hours from flat to 100% charged. This is also the normal method used by the Zero.
The next fastest, called 'fast' charging, is what most owners will end up using at home. This involves installation of a dedicated charge point at home which provides for charging of the car at 16 amps or 32 amps, offering 3.6 KW or 6.6 kW respectively, depending on the car. A LEAF with an on-board 3.6 kW charger will fully charge from empty in around 6.5 hours; one with the 6.6 on-board charger in around 3.5 hours. Fast chargers are also commonly installed in public car parks and supermarket car parks, which are also commonly blocked, or 'ICEd' by internal combustion engine vehicles. This method can also be used by the Zero using the optional charge tank referred to above.
The fastest method of charging is called 'rapid' charging, and typically offers 50 kW of power, allowing the car to charge to 80% in around half an hour and 100% in around an hour (the last 20% is slower to protect the battery, and therefore most people charge to around 80% when on the move). This method is not available to the Zero, which is a great pity, because if it were, it would in theory offer a charge in around 15-20 minutes.
Although the bike constrained us to charging using domestic sockets, it did occur to me that there might be a possibility to charge from a fast charger if there were a lead available which allowed us to go from UK domestic sockets to a fast charging (Type 2/Mennekes) plug. This wouldn't improve charging times, which are constrained by the chargers, but would open up the possibility of charging at public car charging points and anywhere which had a domestic fast car charger facility and would make charging relatively easy, only requiring one fast charge socket rather than four domestic sockets. Such a lead doesn't in fact exist – understandable, since it's not really of much use to anyone ordinarily, but I was able to source a 32 amp Type 2/Mennekes to ICC (or Commando) socket cable. 32 amps would be required to cope with 6.6 kW of charging. To connect to that, I managed to find a rack mount 32 amp 6 way power strip which terminated in a Commando plug. Combine the two and in theory, we could charge both bikes from a single fast charge point.
When the cables arrived, I tried connecting the bike to my home fast charge point and was delighted to see it worked. A trip to the local Asda, where all four spaces were ICEd, allowed me to test the cable on a public fast charge point, and it worked fine there too. Having confirmed that to be the case, I was happy to proceed on the basis of stopping at either fast charge points or places with four domestic sockets.
Planning
"Fail to prepare: prepare to fail.", is the old adage, and with a trip like this, I wasn't going to take any chances.
Having established an approximate route, thanks to Wikipedia, I set about using Garmin's Basecamp PC software to plan the route more thoroughly. On previous trips around the European mainland, I've enjoyed the process of planning the route, and, having learnt a few lessons in this respect the hard way, I've got it down to a fairly fine art now: plan travel by time, not distance; limit riding time to an ideal maximum of five hours per day; always zoom in to where you place via points on the route to ensure that they are placed on the route and not slightly off it; and where possible, pick a mixture of road types for variety.
While I didn't have to avoid motorways, I was looking for something like the shortest route, and eventually devised one which came in at around the 850 mile mark. This divided up neatly into ten stints of 85 miles, giving a comfortable margin between charges. The only exception was the leg between Kendal and Crawford in Scotland, which came in at around 100 miles and would likely involve an additional, shorter stop at Carlisle, so I included that in my planning as an optional but probable mini-stop.
In the meantime, I had mentioned the trip to my Shetland-based older brother, Paul, who goaded me with the line.
"Oh, so you're giving up at John o'Groats are you?"
Of course, he was quite right. While the traditional route takes people from Land's End to John o'Groats, it doesn't consider that the most northerly part of the UK is in fact on Shetland, on roughly the same latitude as Bergen in Norway: actually, slightly further north. Given that the initial plan had indeed been to head to Orkney, which is a short crossing from John o'Groats, it made little sense to stop there, so I decided to extend the journey to Shetland and take the opportunity to visit Paul and family. This would add a day on Orkney to the itinerary, an overnight ferry from Kirkwall to Lerwick, a day on Shetland, an overnight stop with Paul, with a final day for recuperation on Shetland before taking the overnight ferry back directly from Lerwick to Aberdeen.
I initially planned that we would undertake the ten legs of the mainland part of the journey over three days, riding three stints on the first day, four on the second, and three on the final day. This would be quite demanding, since each charge stop during the day would require three hours and be sandwiched between a couple of hours or so of riding. This would make the second day extremely long. I consoled myself that we would have nine hours not riding between four lots of two hours' riding on that day. But simple arithmetic tells you that this even with a 06:00 start, we wouldn't finish that day until around 23:00.
Having plotted an initial route on Basecamp, I set about looking for potential charge stops along the way. This involved zooming in on the route at around the end of each 85 mile leg and finding the nearest pub or fast car charger, and B&Bs for four nights where we could charge. I went through this process, contacted potential places and explained what we were doing. Ideally, I wanted to find pubs or places along the way where we could get something to eat and drink while the bikes were charging. Without exception, the places I found were all very accommodating and were perfectly happy to allow us to charge. A few were very interested to hear about this electric motorbike and some were somewhat taken aback that such a thing even existed.
I contacted the ferry operator which runs the crossings between mainland Scotland and Orkney and Shetland, Northlink, and explained what we were doing on the basis that it might make a good story for any publicity on their part. They weren't overly bothered about the story as such in terms of how they could use it for marketing purposes, but were very happy to sponsor our crossing on the basis that we would also be fundraising on the trip, so they offered to cover the costs of the crossings between Scrabster and Stromness, Kirkwall and Lerwick, and Lerwick and Aberdeen (minus cabin cost). That was a generous offer in itself, and I was very grateful.
The plan was to head down to Land's End on Friday, 30th June in a rental van, stay overnight at a B&B close in Sennen, as close to Land's End as possible, then start the journey proper on Saturday, 1st July. I had a few stops and most accommodation organised by mid June, before I headed off on the trip around mainland Europe on my trusty and faithful petrol bike. Well, not necessarily trusty or faithful at one point of that trip, but that's another story.
Best Laid Plans
Returning from a great trip around mainland Europe with my brother Peter and friend Chris, I was ready to finish organising the Land's End to John o'Groats to Skaw trip as best as I could. I struggled a little with identifying some charging stops even a couple of days before we were due to head off, but at least I had the accommodation sorted and the initial stops, so was quite happy for us to determine further stops en route.
Then, the day before we were due to go, James and his girlfriend Kate, who were expecting their first baby together, received advice from the hospital that the impending arrival would likely have to be induced, probably within the week. We'd originally scheduled the trip for six weeks before the due date to avoid any likelihood of clashing with the due date.
Faced with this reality, and in the full knowledge as a father myself of priorities, I said to James that I would be happy to postpone the trip even at this late stage. He was very appreciative, but told me to go ahead if I wanted to. I replied that it would probably more enjoyable to share the experience, so I would indeed postpone.
A few phone calls later, and it had been postponed. Everyone with whom I'd made bookings was broadly sympathetic and understood the situation.
In some respects, I was glad of the respite, having only just undertaken the trip around mainland Europe, and took the opportunity to plan in greater detail the charge stops and reappraise the schedule. I decided that rather than trying to complete the mainland part of the journey in three days, it would be far more sensible to undertake that part over four days, with two days of three stints followed by two days of two stints. This would make each day far less long. The original second day I'd planned was of particular concern, so the chance to review this was welcome.
We rescheduled to leave on Thursday 17th August, heading off from Land's End on Friday, 18th August and over the next few weeks I managed to plan a detailed route and organise charge stops and accommodation along the whole route.
One thing we hadn't foreseen… As time pressed on, things on the baby front for Kate and James improved and the initial view of inducing birth early was pushed back under constant observation, until we were a few days from leaving, at which point, they were both delivered a healthy baby girl. I know a lot of soul searching went on from their perspective about what to do vis-à-vis the trip, but ultimately by this stage it was more important for James to be around, of course, for Kate and his new daughter.
So, after a bit of discussion, and unnecessary apologies on James' part, I decided that I would undertake the journey alone. Sadly, I wasn't in a position where we could reschedule, and James understood fully. It was the initial intention to do the journey alone in any case, so I didn't really mind. The only concern remaining was transport to Land's End and back from Aberdeen. On that front, James rather insistently offered in a blink to step in and drive me and the bike down to Land's End in a hire van and then to come and collect me and the bike from Aberdeen on the return journey, saying it was the least he could do, given what had happened.
He was certainly under no obligation to me. Family comes first, and I was clear on that, but this offer was certainly a relief on my part, and I wasn't going to object too strongly, because it was the one headache I could foresee.
Knowing I had this option meant I could get a bike ramp for loading and unloading the bike, which James could take back in the van and I wouldn't need to concern myself with one-way van hire or loading and unloading the bike from the van alone, let alone considering how I would do this without the benefit of a bike ramp.
In any case, I would honour the fundraising split between the blood bikes and Tommy's – both being very worthwhile causes and James still being instrumental in helping out with the trip.
So, with the journey planned, I set about finalising details and packing.
I swapped the top box I usually use on the Zero for my now well-travelled GIVI 52 litre top box from my Honda CBF 1000 petrol bike, which was just able to hold the two external chargers I'd borrowed, along with the 6-way power strip, the type 2 to Commando cable, and the power cables for the chargers. The whole top-box was effectively filled just by things to help me to charge more quickly than I would otherwise have been able to do.
Having initially considered, and in fact bought, a set of soft panniers for the Zero, I concluded that these were not really safe to mount without the side rack, so I abandoned that idea and settled for a waterproof Oxford Aqua T30 30 litre roll bag, which I decided would mount just fine on the passenger seat, and a nolabel T2 20 litre waterproof rucksack. The roll bag could be used for additional extension cables (I carried two, two-way extension cables for circumstances where I needed to charge from domestic sockets), puncture repair kits, and sundry accessories. I packed all my clothes, a laptop, USB hard drive, toiletries bag, and all the things I'd need for overnight stops in the rucksack.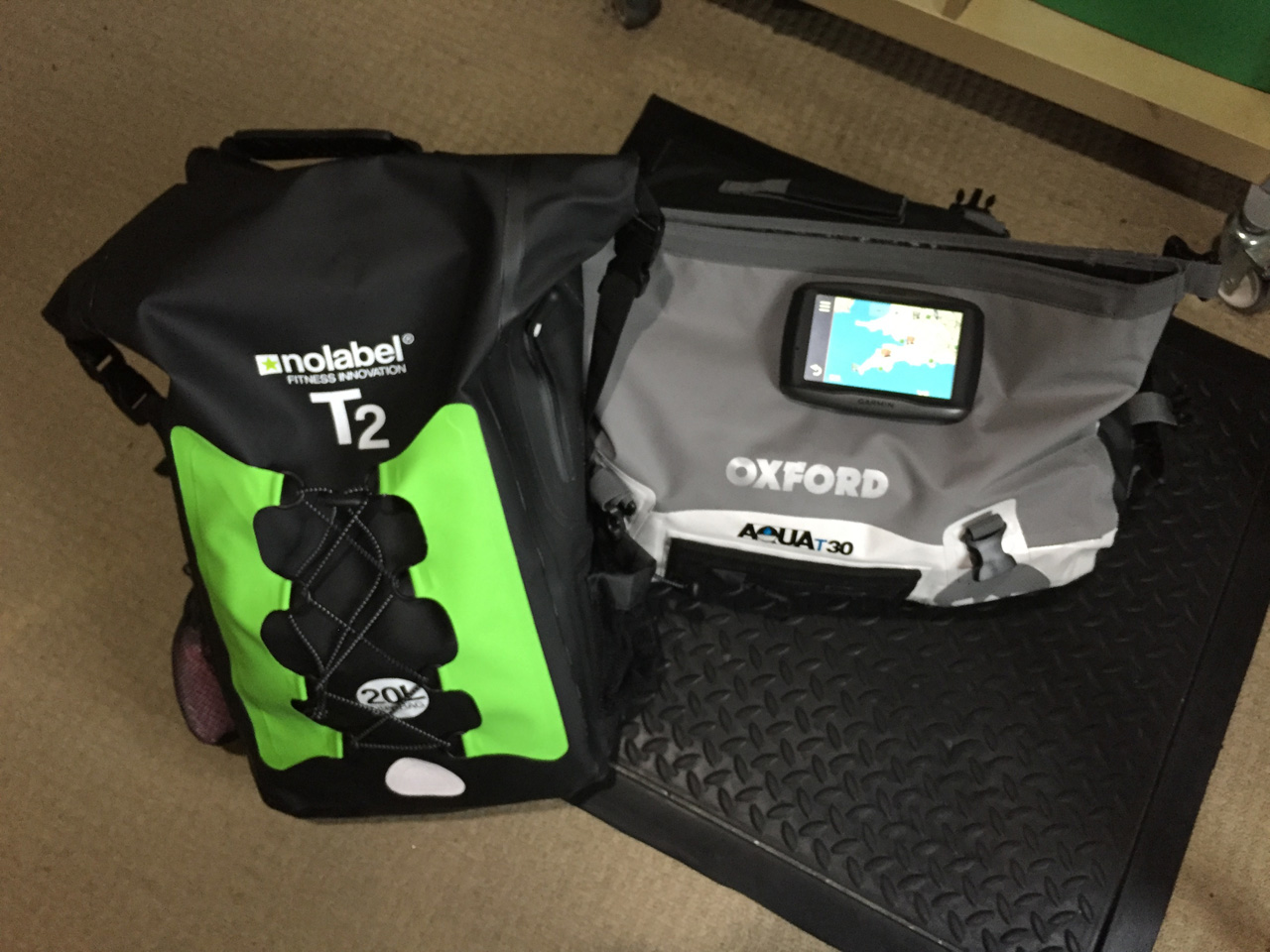 I transferred all the routes across to my trusty Garmin 590LM satnav and checked the mounting for my Garmin VIRB XE video camera, which I mounted to the bike handlebars. I'd already tested the suitability of filming from this vantage point on the Zero and seen that the lack of engine vibration meant much steadier footage than I had ever got mounting a camera on the handlebars of my petrol bike.
The two conditions I require of video action cameras are that they should be waterproof and be able to film a full day's riding, ideally without requiring a battery change. In opting for the Garmin VIRB XE over the likes of a GoPro, I had a camera which would meet both expectations, being waterproof in its own housing. The camera also uses a proprietary powering solution via a weatherproof clip to standard USB cable, which means I can power the camera for several hours through a small USB power bank in my jacket pocket.
Not only that, but the footage, shot at 60fps in full HD, offers smooth and crisp recordings and had performed favourably in reviews, scoring higher than the GoPro alternatives. A simple, raised slide switch on top means that the camera can be switched on and off while wearing gloves and can also, if required, be controlled through Garmin satnav units. As I planned to record the whole journey, this latter option is a nice-to-have, but I don't really use it. The on-board GPS tracking, which logs GPS position as the camera records, allowing you to later review the footage and locate your position on a map, is also a nice feature, but less of a concern when I extract the logs from GPS unit instead.
Thursday, 17th August, 2017
At 09:00, James and I collected the hire van and loaded up the bike, then drove directly down to Cornwall, arriving at around 14:30. I had managed to book an overnight stay at Weavers B&B in Sennen, under a mile away from Land's End and we headed straight there, unloaded the bike, then enjoyed a couple of cuppas in the sunshine and chatted with the owners of Weavers, Janet and Bob Harrison.
They had very kindly offered to let me charge the bike in the small, attached barn/bird-house, so even though the bike was fully charged on arrival, this meant I could venture out to explore a little with the rest of the afternoon, if I wanted to.
Once James headed back home, I settled in for a short time and, following advice from Janet about a large event taking place that evening at the Land's End Visitor Centre and the fact that the official signpost would probably not be manned at my intended departure time, I phoned the visitor centre, which confirmed what Janet had said, so, with their blessing, decided it would be worth taking a short ride out on the bike, down to the Land's End signpost for an official photo.
I duly headed down to the visitor centre, where the car park intendant game me a special ticket and advised me to ride around down to the signpost and request a photo there. I parked up and was happy to chat to a couple of people who had questions about the bike.
A London bus driver who was also a biker showed a particular interest in the bike, albeit with the standard reservations and misconceptions about range, charge time, and battery life – some of which were valid and others which were based on widely-disseminated myths.
When it came to my turn for the official photo, the signpost was changed accordingly, ostensibly to read 'ELECTRIC MOTORBIKE, 18TH AUGUST'. The woman who took the photo had managed to squeeze the words 'ELECTRIC MOTORBIKE' onto the top line of the two available lines on the sign, but unfortunately her colleague decided it would be better if he truncated the word BIKE and moved it to the second line, with the upshot that the sign read 'ELECTRIC MOTOR, 18TH AUGUST BIKE'. A minor niggle on my part, suffering as I do, from mild OCD, but I wasn't going to make a fuss about it. Ultimately, I was happy to get the photo.
Having ticked off that task, I had the rest of the afternoon to kill, so I headed to Sennen Cove for a short time, before enjoying a first meal of the day with a healthy chippy tea at 190 Degrees West. I then headed back to the B&B, chatted with Janet and Bob some more and played fetch with the very playful Collie dog, before retiring to my room for the evening.
Friday, 18th August, 2017
Following a quick, light breakfast, I was waved off on my way from Weavers B&B at 07:16 by Bob. Leaving the gravel of the B&B for the tarmac, I had a brief thought of what the journey ahead might hold and considered the relative enormity of the trip, in UK terms at least: not so much from the perspective of riding an electric motorcycle, but just the distance involved, and I had a few of those mental images flash across my brain as to how I imagined sections of the upcoming journey might be.
I arrived at the Land's End Visitor Centre at 07:30 and, as anticipated, the place appeared to be completely deserted. I rode slowly through the gates to the car park, in case I had missed someone manning the entrance to the car park, but could see that the ticket booth was closed, so, satisfied that I wasn't going to be shouted after by any angry staff, I continued around the side of the visitor centre and rode down to the famous signpost location.
As I approached, two things struck me: firstly, how quiet it was, there being just a solitary woman taking photos out towards sea, and secondly that there was clearly a lot of rain in the distance over the sea.
I approached the woman slowly, but hoped that she wouldn't be startled by the relative silence of the motorbike. As I drew near she turned around and I called out a friendly "Morning!" to reassure her that I wasn't a nutter. I quickly followed up with the request
"Could I ask you a massive favour?"
Without hesitation, she responded, having already anticipated my question.
"Absolutely, I can do it! Are you going to John o'Groats?"
"I am, yeah."
"Well, we'll see you there then. My husband's just set off on his bicycle."
The woman in question, Louise Thompson, was very cheerful and seemed interested that it was the first time the journey had been done on electric motorcycle, but most significantly from my perspective, she managed to capture some wonderful photos using my camera for the start of my journey. Had she not been there, I would have been wrestling with my Miggo flexible tripod, trying to capture some good photos, and most certainly wouldn't have composed as good photos as she managed, so my great thanks are extended to Louise for capturing those photos.
At the same time, I must confess that I was struck and just a little embarrassed by the relative ease of my impending, albeit long journey, when compared with that of someone making the journey under their own power, whether by bicycle, tricycle, skateboard, or any other manpowered contrivance, or indeed on their own two feet.
I thanked Louise as she headed off, put my stuff away, my rucksack on, and got back on the bike, checking that the video camera mounted to the handlebars was still filming, and started to head off, but as I turned the bike around, noticed a rainbow out at sea. Thinking this made a nice photo, I retrieved my phone and quickly grabbed a photo before I finally set off on the start of the journey proper at 07:45.
Since I had set off, the sky had clouded over some more and I could see that I was heading along wet roads into what looked like some pretty heavy rain. As I arrived on the outskirts of Penzance, a mere 15 minutes into my journey, I could see the heavy, dark, menacing sky ahead meant business, and decided it was the right time to put on my waterproofs. I was only slightly too late, and suffered the panic every biker will know of frantically scrambling against oncoming deluges to cover up sufficiently quickly. Having done so, I remounted the bike, set off again and was soon heading north east on an initially rather wet A30, which is the main dual carriageway and route linking Cornwall with the main road network of the UK.
I veered off the A30, rather pointlessly, initially, to go through Bodmin, but it was the route I had planned, was more direct than the dual carriageway, and provided some respite from the dual carriageway. Then returned on the other side of Bodmin to the A30, before once again leaving it around 13 miles before Okehampton for a more direct, cross-country route to my first charge stop.
I had planned the first stop through a website called Plugshare. Plugshare is one of several Web-based or mobile app-based resources which list electric vehicle charge charge points or more commonly display them on a map. I had seen that there was a B&B, Upcott House in Okehampton, which had a type two car charge point and had arranged to make my first stop there.
Pulling into Upcott House at 10:30, I was struck by the splendour of the place. As I rode the bike down the driveway, I noticed the charge point under a kind of car port, so parked the bike there, then got off and rang the doorbell.
The door was answered by Kay Bickley, who, with her husband John, own and run the award-winning B&B. Initially, Kay was somewhat surprised by my arrival and said that she had expected me a few days before. I put this down to a miscommunication between me and her son with whom I had spoken when arranging the stop, but in any case, she assured me that it made no difference and that I was welcome to charge the bike.
While the bike charged, I chatted with Kay and John about their rather impressive set-up at Upcott House, which has seen the beautiful, but costly-to-run old building transformed into a veritable showcase of eco technology.
Kay showed me around the eco tech they have installed, which includes biomass heating, an air source heat pump, solar PV panels.
They have received numerous awards in the process for their efforts. More significantly, their ongoing energy bills have been reduced drastically. And of course, they drive a Nissan LEAF electric car and offer the charge point to other EV owners: indeed, it was the first public EV charge point in Devon.
We chatted about EVs; green tech more generally; my journey; their careers, both having moved from high-pressure jobs in London to running a B&B in Devon to escape the rat race; and their activities in helping out homeless people. Kay was former mayor of Okehampton and town councillor and still serves as a magistrate. At the time of my visit they were in the process of converting some of the rooms into retirement flats.
She offered me drinks and refused any payment, which was a very kind gesture, along with the free charge. Finally, after a longer-than-planned visit, simply down to socialising, rather than charging time, I set off again at 14:10 on the next leg of the day's journey.
Following the B3215 to Bow and, the A377 to Crediton, then the A3072 and the A396 up to Tiverton, I was blessed with dry roads and sunny weather, and the roads were a joy to ride, allowing for some gentle progress and nice overtaking opportunities.
My route from Tiverton took me on a direct line across countryside through the villages of Uplowman, Whitnage, and Pitt, riding mainly dry, but occasionally wet and muddy, typically narrow Devon roads. These roads required cautious and smooth riding, which, while prolonging the journey, meant my power requirements were kept low. Leaving Devon, I joined the A38 in Somerset and continued my journey up through Wellington, from which the first Duke of Wellington, Arthur Wellesley, got his title, and on to Taunton.
The stretch between Wellington and Taunton included a lot of crawling traffic, it being close to 16:00 on a Friday afternoon.
From Taunton, I initially took the A3259 and then rejoined the A38, riding in close proximity to the M5 motorway to Bridgwater, where I had my one and only altercation with another road user on the trip. As was the case between Wellington and Taunton, the traffic approaching Bridgwater was crawling and stationary for quite a stretch before the town itself.
One very big benefit of riding a motorbike is the ability to filter around slow or queuing traffic. Contrary to the belief of some road users, this is perfectly legal and indeed promotes better movement of traffic for all road users. It does, however, require a great deal of alertness and is to be avoided at certain danger points, but there are stretches where some considerable progress can be made without hindering any other road users.
On the approach to Bridgwater, traffic was queued along my side of the road, so I took the opportunity to filter along stretches where this was possible. In one particular part, there was a gradual bend in the road in the distance to the left and a bus on my left side, so I adopted a position to the right of the other side of the road both to extend my view and to keep a safe distance from the bus on my left side. This is by far the safest place to be in that situation.
However, a distant car, approaching on the other side of the road clearly took umbrage at my positioning and flashed his headlights at me at a considerable distance, while I was moving back to the left side of the road, plainly under the rather odd impression that I planned to ride into the front of his vehicle, or more likely unaware that what I was doing was not only perfectly legal, but indeed safe.
In any case, as he passed, he thought fit to gesticulate in a rather ungentlemanly matter. I let it pass and carried on my way… always the best thing to do.
Once clear of Bridgwater, I had a fairly clear run to my second charge stop of the day. As the Mendips came into view, the weather stayed reasonable, conditions remained dry, if somewhat cloudy, and I continued along the A38 up to the Sidcot Arms in Winscombe: a Brewers Fayre pub, arriving at 17:15.
After some initial discussions with one of the staff, who recalled the conversation about me charging, there was some deliberation and confusion as to how this could be achieved. However, after some confusion, I managed to find a convenient double socket in a smaller dining area, off the main restaurant, which was nice and quiet and offered a means for me to charge the bike if I positioned it in front of the window outside and routed the cables through the window.
For the first time on the trip, I retrieved the two, standard two-way extension leads I had brought with me and routed them through the window to the power sockets. I was then able to plug the two external Quiq chargers into one of the two-way extension leads and the internal bike charger into the other, ensuring that the electrical power pull on an individual socket would not be too much. I concede that this method of charging was less convenient than using the more simple method I had used at my first stop, but it did mean that I could charge anywhere I had access to two standard domestic sockets.
Around 20 minutes after arriving, I managed to get the bike charging. While the bike charged, I decided to charge myself and ordered a meal to eat, as the restaurant started to get busier. I amused myself for a while on social media and ordered a couple of drinks to pass the time. Given the nature of the pub, it was less of a situation where you could strike up conversations with people easily, so I kept pretty much to myself, save a conversation I had shortly before leaving with a Scottish biker from Caithness.
I had arrived in Winscombe with an impressive 35% battery remaining, having travelled 77 miles since my previous stop, so knew that my charge time would be decreased somewhat. Sure enough, at 19:50 I was ready to continue, and, having packed away the cables and thanked the staff, I headed off on the third and final stint of the day's journey.
Starting back on the A38, I stayed on the road for only another 2.5 miles, before I veered off once more onto smaller lanes through the pretty village of Churchill, then, as the light started to fade into dusk, I rode on through Congresbury, where the roads showed signs of recent rain once again. From there, I went on through Yatton, where I stopped briefly in a failed attempt to phone ahead to my planned overnight stop to give an estimated time of arrival. In the event, I couldn't get through on the phone, so gave up and decided to press ahead. As well as the light fading, the wind had got up quite considerably and low cloud was being pushed along at some clear speed.
I had heard that we might be subjected to the outer effects of what had been Hurricane Brian, and this did indeed seem to be the case.
From Yatton, I headed through Kenn, before I joined the M5 northbound at junction 20 near Clevedon. With the strong wind, I kept to the first lane and kept my speed down to around 50, remaining in the nearside lane. Once clear of that section of the M5 where the northbound and southbound carriageways are on two different levels, I was exposed to the wind across the Severn.
I left the motorway at junction 18, heading around the industrial areas in what were now very dark, oppressive skies, to pick up the Severn Bridge (A48) across into Wales. Being on a motorbike, there was no toll fee to cross the bridge, but the winds were quite a force to contend with and again, I kept my speed down and hunkered down as best I could to keep stable.
Once in Wales, I headed north into the Wye Valley, along the ordinarily pleasant A466. Sadly, under these conditions, I can't say it was all that enjoyable. I had to keep my wits about me. It was a very dark road, the weather was menacing, and given the almost complete darkness, I discovered properly for the first time how truly inadequate the stock headlamp on the Zero DSR is.
Passing Tintern Abbey, I turned off the main road and onto Trelleck Road, which in turn became the Llandogo Road. This was a single track, woodland road, which took on a particularly menacing character in the dark and wind with such a poor headlight, to the extent that I was pleased to reach the village of Trellech (also spelt Trelleck, Treleck, Trelech, or Tryleg: a few of apparently 26 known spellings of the village name). Once one of the largest towns in Wales in the 13th century, it is now a small, picturesque village: not that I could appreciate it under the conditions.
I was glad when I reached the bright lights of Monmouth just after 21:30, where I pulled over and this time was successful in contacting my destination for the night, giving a rough estimate of my arrival time. From Monmouth, it was a relatively straightforward ride on the A466, then the A49 back into England to Hereford, the last of the town traffic for the day, and on to Leominster.
Just outside Leominster, I turned off the A49 to Kimbolton, where I arrived at my accommodation for the night: Grove Farm B&B, based at a working farm, at 22:30 and with 10% left on the battery.
I was met by owner, Fiona Bunting. Fiona guided me in the dark through a gate and up to a stable, where the bike was due to be housed, or indeed stabled for the night.
There was a small step up into the stable which required gentle power to get in and Fiona assisted with a gentle push. As the bike had overnight to charge, a handy power socket allowed me to plug in the single lead from the socket to the bike's onboard charger, so setting the bike charging was simple.
Having confirmed that the bike was charging, I was shown my accommodation by Fiona, who enquired about my leaving time plans. She seemed disturbed initially that I wanted to leave early, but when I reassured her that I didn't want a cooked breakfast, she was more relaxed, showed me where items were located and left me to it.
I thanked Fiona, bade her goodnight, showered, copied the day's footage from the video camera onto portable hard drive, relaxed for a few minutes, then got a welcome good night's sleep.
Saturday, 19th August, 2017
I was up at 06:30 the following morning. On my own in the accommodation, I helped myself to a bowl of cereal, a bit of toast and some coffee, then packed my things and made my way over to the stable to collect the bike.
I was relieved to see that it had charged fully overnight and was ready for the second day's adventure. Naturally, under the circumstances, the unlikely scenarios did cross my mind. What if it had stopped charging overnight for some reason? What if I had a puncture?
I satisfied myself with the standard bike checks that all was fine, pushed the bike out carefully from the stable and took a couple of photos to capture the nice morning scene. The ground was wet following the previous day's rain, but there were encouraging signs of blue skies ahead.
At 07:18, I headed off, making my way along a couple of single track country roads, covered in the usual farm-related surface hazards, but was relieved and appreciated the contrast from the previous night and took in the beauty of the surrounding countryside in the early morning sun.
Picking up the A49, I deviated briefly off the road briefly to take a shorter route into Shropshire directly through one of my favourite haunts, Ludlow: a place I visit quite frequently on my petrol bike.
Today, however, I had no time to stop at my favourite café, near the castle, nor to appreciate the beauty of the town, save for a set of traffic lights on the approach to the town outside the Charlton Arms pub, which, already red when I approached, detained me for a full 2 and a half minutes, which sounds like very little time when said out loud, but sat at traffic lights feels like an eternity. Fortunately, the view afforded and the brief ride through beautiful Ludlow mitigated the seemingly endless wait.
Back on the A49, the small number of other road users made the run from Ludlow up to Shrewsbury an enjoyable and tranquil experience, the Shropshire Hills in the morning light making for a very pleasant backdrop.
Shortly before entering Shrewsbury, I stopped at a services where the A5 intersects the A49 to rendez-vous with Chris, who had accompanied my brother Peter and me on our recent mainland Europe trip. I had arranged with Chris to meet up there, with a view to him accompanying me to my first charge stop of the day.
He greeted me with a characteristic quip.
"Almost done!"
Almost done indeed.
We didn't hang around at the services, but opted to head straight off and continued into the centre of Shrewsbury, which, I am reliably informed by my friend from there, Mark, is pronounced Shroosbury, like the small animal, and not Shrowsbury, as I had always pronounced it until he put me right.
It had been over thirty years since I had gone into the centre of Shrewsbury and I had not appreciated how beautiful a town it is, so I was glad of the opportunity to take a quick route through its centre as part of my trip.
From Shrewsbury, we took the pleasant A528, then the B5476 on dry roads up to Wem, entering the small market town with the impressive Wem Mill, a former corn-grinding mill, to our right. From Wem, we continued on the same road up to Whitchurch in the northernmost part of Shropshire.
Leaving Whichurch, we joined the A49 and, crossing into Cheshire, the skies ahead started to cloud over a little more again, and we had the first spots of light rain of the day. We stayed with the A49 for the remaining part of the first stint of my journey of the day, crossing the Acton Swing Bridge over the River Weaver, whereupon I decided to pull over to tighten my right wing mirror, which had become a little loose.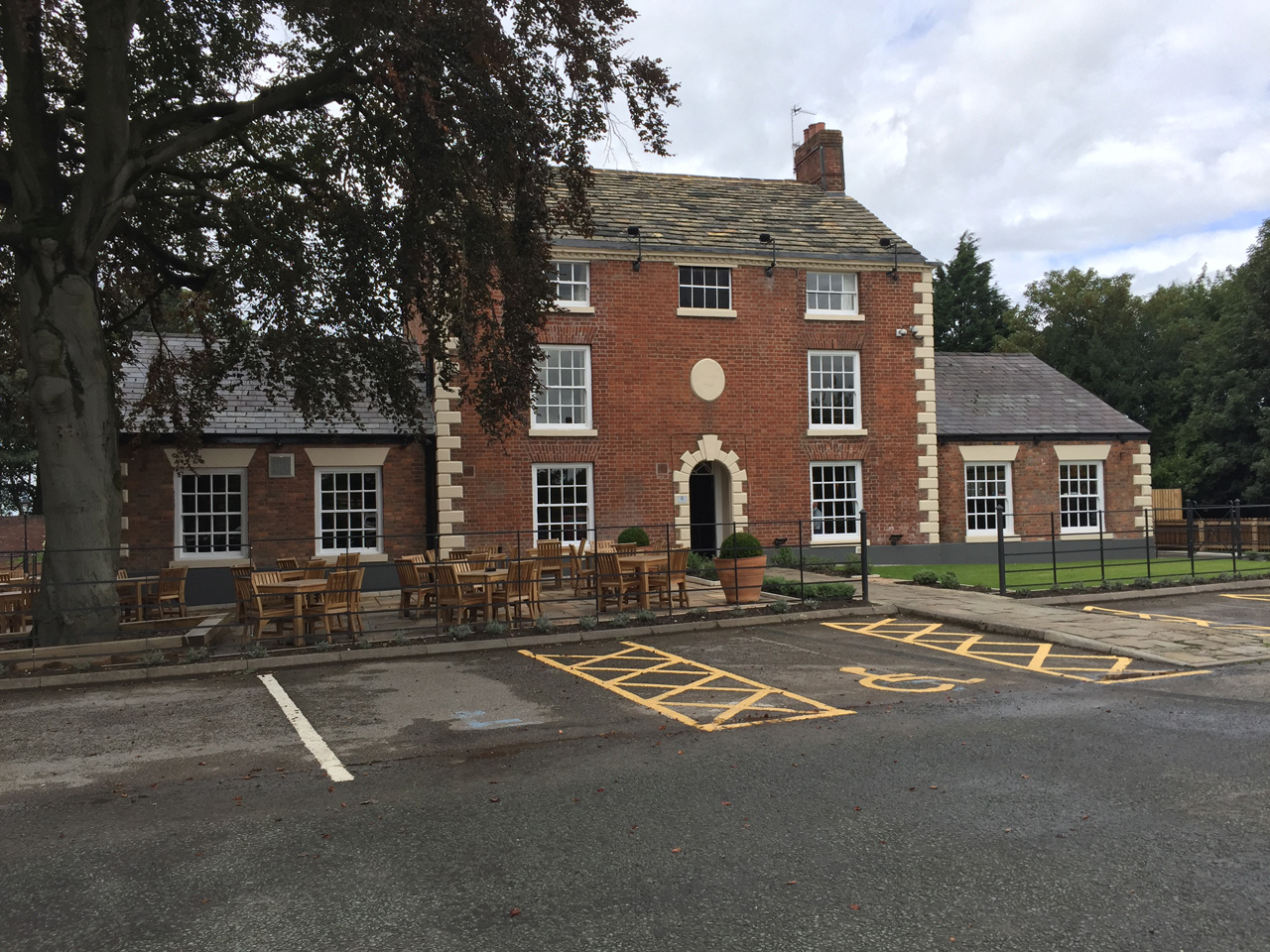 A short time later, at 10:00 and with 11% of battery remaining, we arrived at my first scheduled stop for the day: a very pleasant pub, the Partridge at Lower Stretton, just south of Warrington. This was on my changed route, away from my original planned route through Runcorn, and I'm actually very glad I went to the Partridge.
We turned up, just as it started to properly rain. It was a lovely pub, out of town, and recently refurbished. I had arranged with General Manager, Neal Thacker, to charge there and the staff were very obliging. I found a couple of sockets near the fire exit door and was able to use my two extension cable method to charge the bike, leaving my waterproof coat over the top-box to offer some further resistance against the rain.
While the bike charged, Chris and I went in and I had a brunch/early lunch of porridge while Chris tucked into a proper English breakfast. After a while chatting, Chris said farewell, wished me luck and headed off.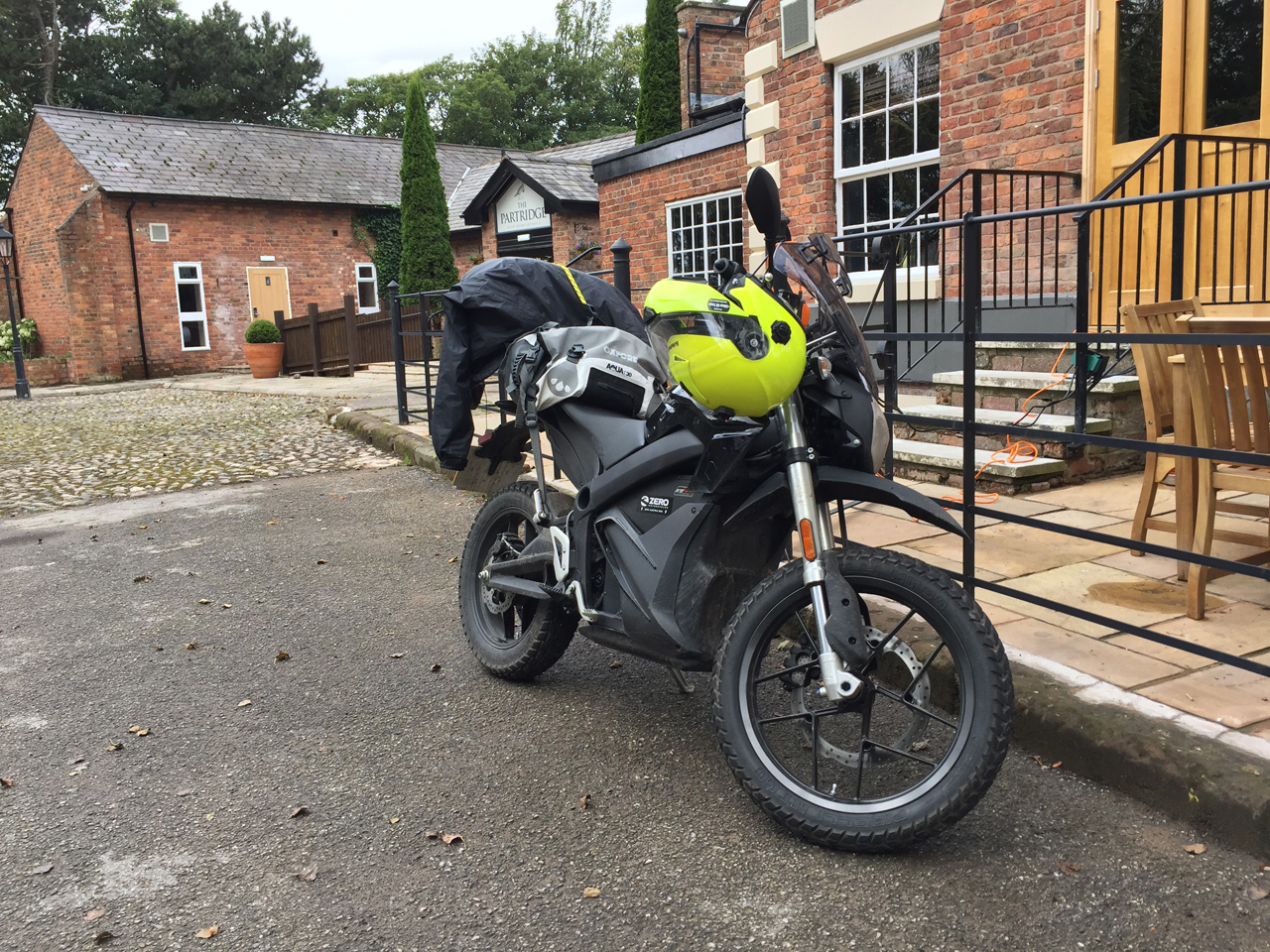 By 13:25, the bike had fully charged and I was ready to be on my way again. I thanked the staff and headed off on my own again.
The next section of the journey proved to be an excellent opportunity to practise urban riding, as it saw me continue on the A49 into what I should, as a Yorkshireman, consider 'enemy territory': Lancashire.
I rode through Warrington, Wigan, and then into Preston, where I picked up the A6. There's little I can write about this part of the trip, save that it was mercifully dry for the main part, with a couple of showers. That particular part of the country on the route I took provides little respite away from urban centres and traffic.
Once clear of Preston, however, I was away from the main urban centres of the North West and enjoyed some pleasant, more open country road travelling the A6 in the Red Rose county. I managed to maintain a nice, steady speed along that stretch.
Lancaster itself is a lovely place and it was nice for me to pass through the city again and across the River Lune. Once clear of Lancaster, I continued on the A6 and travelled through Bolton le Sands, which afforded me a lovely view over Morecambe Bay. Then it was on to Carnforth, after which I left the A6 and joined the A6070 into Cumbria, through the narrow main road in Burton in Kendal, and followed that road up to Milnthorpe, where I joined the A65, the remainder of the leg providing me a lovely ride up to picturesque Kendal.
Approaching Kendal, the skies had once more clouded over and the roads were damp as I entered the town. Kendal is a popular market town in Cumbria and is a tourist favourite. Consequently, it was reasonably busy on the high street as I arrived, but after a short time I arrived at my second charging stop of the day, the Duke of Cumberland pub, at 16:34 with 34% of my battery charge remaining, having covered 77.8 miles since the previous charge stop.
I was pleased that the battery was already a third charged, as I was keen to press on with the trip. Nevertheless, I needed to charge and was starting to get a little hungry, and the weather had turned rainy again, so it was a good time to stop and recharge both the bike and me.
I met the landlord and landlady, Trev and Liz Crawford, with whom I'd spoken to arrange stopping to charge and after a bit of pondering again as to how we could charge the bike, I wheeled it outside the pub's beer cellar and managed to gain access to a couple of sockets. Once again, this necessitated the rather longer extension lead approach to charging and it was a little awkward to get the bike set up in the cramped space, but I was nevertheless grateful to be able to charge there, and, once set up, I headed into the bar to get myself a drink initially, followed by something to eat.
At around 19:00, the bike had finished charging. By the time I'd noticed, unplugged the leads and moved the bike back into the main car park, and said my thanks and goodbyes, it was 19:26 and time for the off again.
The next stint was going to be challenging. I had an estimated 112.5 miles of range, according to what we EV owners call the 'guessometer': the estimated remaining range based on recent riding or driving in the case of cars. I had 102 miles to do on the next stage, simply because I was heading up to the Scottish borders and there were few built-up settlements around my route which would allow me to charge. I knew that despite the claimed range on the guessometer, that 112 miles was a wholly unrealistic range, especially since my next stint would include several miles of motorway and the climb into Scotland.
With that in mind, I had planned an additional, minor stop in Carlisle, which I knew really that I would have to make, albeit for a shorter period of time.
No sooner had I left Kendal than I began the ascent on the picturesque A6, skirting the edge of the Lake District, and it quickly became apparent that the ascent was taking its toll on the range at that early point in the ride. Once the road levelled off, I continued on through Shap and successive villages and on to the town of Penrith, then stayed with the A6 on that long, predominantly straight stretch as the sun began to set.
At 20:43, having travelled 43.3 miles from Kendal I was at 47% battery and so made my planned additional stop at a Polar charge point in Carlisle's Asda superstore (only one of the two spaces ICEd). I was able to make use of the type 2 cable and so setting the bike up to charge was fairly straightforward. While I was charging, I was approached by someone and we soon struck up a conversation about the bike.
Paul Higgins, with whom I spoke was a chef by trade, but also had knowledge of and dealings in infrared heating panels. Funnily enough, I'd only recently heard of this technology via another friend, but it transpires that they were used extensively during recent floods in Carlisle to dry out houses, and Paul took an interest in them. Essentially, they use infrared energy to heat up objects, notably people in a room rather than the standard way we heat homes, which is by heating the ambient air. As such, they are reputedly far more efficient. I resolved to find out more about these. We chatted for an hour, when, with the battery at 80%, I decided to make a move on the final leg of the journey for the day.
The final part took place in the dark and once I had got out of Carlisle, comprised exclusively motorway miles, travelling up the M6 and then, as I crossed the River Sark and the border into Scotland, the A74(M).
This section of the journey was by far the most demanding in terms of power on the bike. The long and steady climb into Scotland, combined with the wind, which had picked up again, and still fairly poor weather, all took its toll. I took my speed right down to speeds which I admit were a little uncomfortable on an unlit motorway, hovering around the 35-40 mph mark, close to the minimum speed on UK motorways.
I initially left the motorway at junction 15 near Beattock, but quickly realised that this was due to a poorly-placed waypoint on my route plan and so I got back onto the motorway and continued. By this stage, I admit I was starting to suffer a little with range anxiety. Perhaps I should have stayed a little longer at Carlisle, but as the miles went on and the distance towards my intended destination decreased, I started to relax a little more.
By the time I arrived at my destination, Holmlands Bed and Breakfast in Crawford, it was already 23:12. I had made it with 4% battery remaining and a mere 6.4 miles left on the guessometer. That stop in Carlisle for the extra hour had definitely been a wise move. In battery terms, the stint from Kendal to Crawford had used a total of 128% to cover 102 miles.
Nobody heard me arrive, but I noted that there was a television on and someone sleeping on the couch. Having knocked on the door and failed to get a response, I tapped on the window, hoping I wouldn't startle the sleeping man.
He responded, got up, opened the door and escorted me, with the bike to the garage at the rear of the building. I apologised for the lateness of the hour, but he was quite understanding. I had telephoned from Carlisle to update them with an estimated arrival time.
I plugged the bike in, once more only requiring one socket and one lead, watched it start charging and then my host, John Damer, showed me to my room. By this time, I was very tired and, following a nice, hot shower and having copied the day's video files off the camera, turned in, grateful that the next two days were going to be comparatively easier and shorter.
Sunday, 20th August, 2017
I had planned the last two days of the mainland part of my trip to include only two rather than three legs, which meant that I could afford to get up at a more reasonable time and so, following breakfast, I packed my remaining items, retrieved the bike from the garage, and prepared to head off.
Following a quick chat with John, I headed off, but realised after less than two miles later that I had neglected to photograph my bike's display, which I'd been trying to capture at the start and finish of each leg to record the battery stats. In actual fact, the Zero does keep its own log, which can be accessed and parsed to retrieve this information, but nevertheless, a photo or video was somehow more immediate and easier to share. I also noticed that my right wing mirror was loose now, so I decided to stop, fix the wing mirror issue, and record a little bit to camera, including the bike's display.
The main reason I wanted to record a bit to camera was because, looking at my prepared route, I could see that I had 83 miles to go and an estimated 83 miles of range according to the guessometer. Naturally, the guessometer calculates based on the last few minutes of riding, so I appreciated that, due to the power-demanding ride the previous evening, the guessometer would be showing a lower than expected range. Depending on the terrain ahead, I might have to break the next leg of my journey again. I was reasonably confident that I wouldn't have to, but I thought it would in any case provide a good example of how the guessometer should only be used for general guidance and also, anticipating that I would ride economically, I thought that I could stop again after a distance and make subsequent videos contrasting the remaining distance to travel with the expected range of the bike according to the guessometer.
Having tightened the wing mirror and recorded the bit to camera, I headed off. Away from the motorway and heading cross country from Crawford, I welcomed the change in pace and was able to enjoy some very nice roads in the lowlands of Scotland. I had prepared for rain by donning my waterproofs, but in the event, the weather held off, despite it being another cloudy day.
From Crawford, I headed through nearby Abington, which I recognised as the location of a rapid charger for cars, followed the A73 initially, then turned off and headed through Covington to Carstairs on a stretch of single track road which I found particularly pleasant and which took me over the Clyde: at that stage little more than a small river. Most of this road necessitated riding at lower speeds, so that benefitted me in terms of extending the remaining range.
I continued on to Forth, just outside which I stopped briefly to make another video update of distance remaining compared with range.
At that stage, I had 56 miles to go until my charge stop according to the guessometer and 82.2 miles remaining in the battery. Essentially, I had travelled 27 miles but used a mere 0.8 miles of capacity.
In the video clip, I made reference to "range control" rather than "range anxiety", whereby range on an electric motorbike (and indeed an electric car) can be extended by judicious riding or driving and through more range-friendly environmental factors: temperature, gradients, and winds. The energy demands from the previous night merely made the contrast in the energy demands on this leg all the more apparent.
This does, of course, apply to internal combustion engine vehicles too, but the readily available nature of fuel pumps makes many riders and drivers less concerned about fuel economy.
From Forth, the highest point of the day's riding at 322 metres (1059 feet), I began a gradual descent in the direction of Falkirk, passing through Whitburn, where a road closure forced a slight detour, then Armadale and Avonbridge, before arriving in Falkirk.
The long descent of course meant that there was little power demand on the battery and, like other electric vehicles, the Zero does have regenerative braking, whereby the motor can act in the same way engine braking on a car does, but in the process, it generates energy and feeds it back into the battery. This has prompted speculative questions from owners such as one I particularly liked:
"How tall would a mountain need to be to start at the top with 0% battery and arrive at the bottom with 100%, produced through regenerative braking?"
The Zero actually allows you to customise the level of regenerative braking through a Bluetooth connected app, and it is tempting when first setting up the bike's custom configuration to roll on 100% regenerative braking, so the motor braking is quite harsh, but experience soon shows that a more subtle application of regenerative braking is actually preferable, because otherwise the bike tends to want to brake more and fighting this actually tends to encourage more power use. It is better to let the bike 'coast' more, although it isn't truly coasting, as the bike is always in gear and the motor is always responsive. Likewise, the custom torque setting is better rolled off 100%. Naturally, 100% means the bike is hugely responsive to application of the throttle, but again this can make the throttle a little unforgiving on bends, so a less severe setting is preferable.
Shortly before reaching Falkirk, I pulled over to once more compare remaining distance to travel with the guessometer's estimate of remaining range. With 66% of the battery remaining, I had travelled 40 miles and, due to the descent, the guessometer now reckoned with a range of 84.7 miles: more than it had estimated at the start of the journey, 40 miles before!
Descending into Falkirk, I joined the A9 between those Lowland places which played significant roles in the First War of Scottish Independence, during the reign of the Plantagenets on the English throne, notably Malleus Scotorum, himself, Edward I, and his rather ineffectual son, Edward II. From Falkirk, where Edward I's forces decimated those of William Wallace in 1298, I rode on to Bannockburn, where Edward II's forces were defeated by the Scots under Robert the Bruce in 1314, and then in turn on to Stirling, where the Battle of Stirling Bridge provided the first major victory for the Scots in 1297.
Sighting the National Wallace Monument as I crossed the River Forth, I couldn't help but think of scenes from the Hollywood version of the William Wallace story, Braveheart: a film which I enjoyed very much as an epic film in its own right, but surely has to qualify as one of the most historically inaccurate films of all time on almost every detail. As I rode over the modern road bridge over the Forth next to the old bridge, I chuckled to myself that the film's recreation of the Battle of Stirling Bridge was somewhat lacking in the bridge department: a minor detail which proved decisive in the Scots' victory there.
From there, I stayed on the A9, rounding Dunblane, sadly now forever associated in the minds of many of us with the terrible events of 1996, then left the A9 on the A822, heading past Drummond Castle towards Crieff, which happened to be hosting the Crieff Highland Games that very day, and where Jim McGregor, father of actor and fellow biker, Ewan, took on the role of chieftain for the day. Sadly, I had no time to take in any of the events, but had to press on through the town centre.
Leaving the town, I headed on a further five miles or so before arriving at my one and only scheduled charge stop of the day, Fendoch Guest House, at 12:26, with 26% battery left, having travelled just shy of 85 miles. There, in this lovely location, I met Graham Waugh and his wife, Nan. This was another location I had found through the Plugshare site and contacted weeks before to enquire about charging.
Graham and Nan were delightful people. They were both extremely friendly and welcoming to me. I connected the bike to their type 2 charge point, once more allowing me to plug in a single cable to the socket, and then they made me feel extremely welcome. We chatted about all sorts and Nan insisted on giving me something to eat and drink at no cost. In the meantime, their grandchildren played happily around us all, clearly used to guests being around the place.
At some point a couple arrived, who were clearly regular visitors to Graham and Nan, and in turn, were given a great welcome. It's always a good sign to see people returning to locations like this and for them to be welcomed as though they were good friends is the mark of true hospitality.
Had my journey worked out differently, I would have liked to have stayed at Fendoch Guest House, and it's certainly a place I'd consider for an overnight stop on any future journeys into Scotland, or indeed just for a break with family.
Just after 15:00, the bike finished charging and it was time to move on. Having unplugged and got my things together, I thanked Graham and Nan for their hospitality and headed off at around 15:20. Graham, a retired police officer, stood out in the road to assist me in exiting the driveway.
Turning the bend as I headed off from their house, I was immediately struck by the change in scenery from the Scottish lowlands to the start of the Highlands. Managed farmland gave way to taller peaks, less densely populated, and the quilting of heather made the transformation unmistakable. I followed the A822 just shy of 7 miles to Amulree.
From there, I turned left onto a single track road, apparently one of the military roads built by General Wade in the 18th century, which took me past Loch Freuchie, across the River Quaich, which was followed by a steady climb, a stunning view and then a steady descent towards Loch Tay. This was a wonderful road to ride, albeit necessitating regular stops to allow vehicles to pass each other at the designated passing places.
On the descending road, I passed an isolated house which has to be one of the most idyllic old houses imaginable. The road then became increasingly wooded and steep in places as I descended to Loch Tay and picturesque Kenmore on the banks of the loch.
At the other side of Kenmore I turned right and headed past Taymouth Castle and a rather interesting looking small roofed building on my left. I haven't been able to ascertain what this structure was, but it looked like a roof supported by tree trunks. It was located near a certain Karelia House, a Scandinavian themed craft centre, so whether it had some Scandinavian/Finnish/Russian connection, I'm not sure.
At the end of the road, crossing the River Lyon, I turned onto the B846 and followed the fur-lined road passed Loch Kinardochy to Tummel Bridge, where the River Tummel flows into Loch Tummel and which is marked by the presence of the very impressive 1935 hydro electric power station, fed by a small reservoir at Dunalastair and producing 34MW. Further along the road, I passed Trinafour hydro-electric power station, added in 1959, which although only generating 500kW, does so using just compensation water, provided to maintain a minimum flow into the River Errochty.
These two stations are two of nine hydro-electric power stations operating in the Tummel Valley and make use of the area's rainfall and melting snow (nature's own energy storage solution) to produce power throughout the valley. The area's hydro-electric scheme is testament to early 20th century efforts to harness renewable energy efficiently. By the time water reaches nearby Pitlochry hydro electric power station, it has been used up to five times to produce power.
From Dalchalloch, turning once more onto General Wade's Military Road, I rode for a further five miles before I reached the A9 once again and was back from single track road onto one of Scotland's main arterial roads.
Being the busy road that this is, and wanting to preserve energy, I maintained a steady 40-50 mph, affording most vehicles plenty of overtaking opportunities. I was nevertheless relieved when, after another 11 miles, I was able to leave the A9 for the relative tranquillity of the A889 and on to some familiar childhood territory.
I had deliberately planned my route to pass nearby Dalwhinnie Distillery, the highest distillery in Scotland, because, as a 12 year old boy in the summer of 1983, we enjoyed a family holiday in a wooden chalet next to Crubenmore Lodge and did the 9 mile round-trip walk to Dalwhinnie one day to visit the distillery. I can still remember the smell of the place, which was quite overpowering. It seemed far more set up for visitors than it had been back in 1983, when we just knocked on a door and were shown around as a family. Now, it has become quite a tourist attraction on the Malt Whisky Trail and was fitted with a new visitor centre in 1991, subsequently going on to win various accolades.
From Dalwhinnie, I travelled along another of one of General Wade's military roads I had walked 34 years ago to the place we stayed that summer, Crubenmore. I paused briefly to take in the views and to take a couple of photos, then carried on, along the road through nearby Newtonmore, with its many single story dwellings along its high street, and where we had gone to see a game of the Highland sport, Shinty, back in 1983. I recall the amusement we had at the time at the term used to describe the start of the match, where the ball is thrown up into the air: the "throw-up".
After Newtonmore, it was on through through Kingussie. The road thereafter, the B9152, was a joy to ride. At that stage I had under 20 miles remaining to ride and plenty of energy remaining to complete the journey, so I allowed myself to ride a little less conservatively. The road offered plenty of nice, smooth bends to ride, against the spectacular local backdrop.
Aviemore, the capital of Scottish skiing, was the next main settlement I passed through. Still a tourist attraction all year round, it's easy to see the efforts made in the buildings to attract visitors and even the street lights have their own very unique styling.
From Aviemore, it was a straightforward run along part of the A95, before I turned off onto the B9153 and rode the remaining 3 miles to my destination for the night, the village of Carrbridge, named after its famous packhorse bridge, which still exists and indeed celebrated its 300th anniversary in 2017.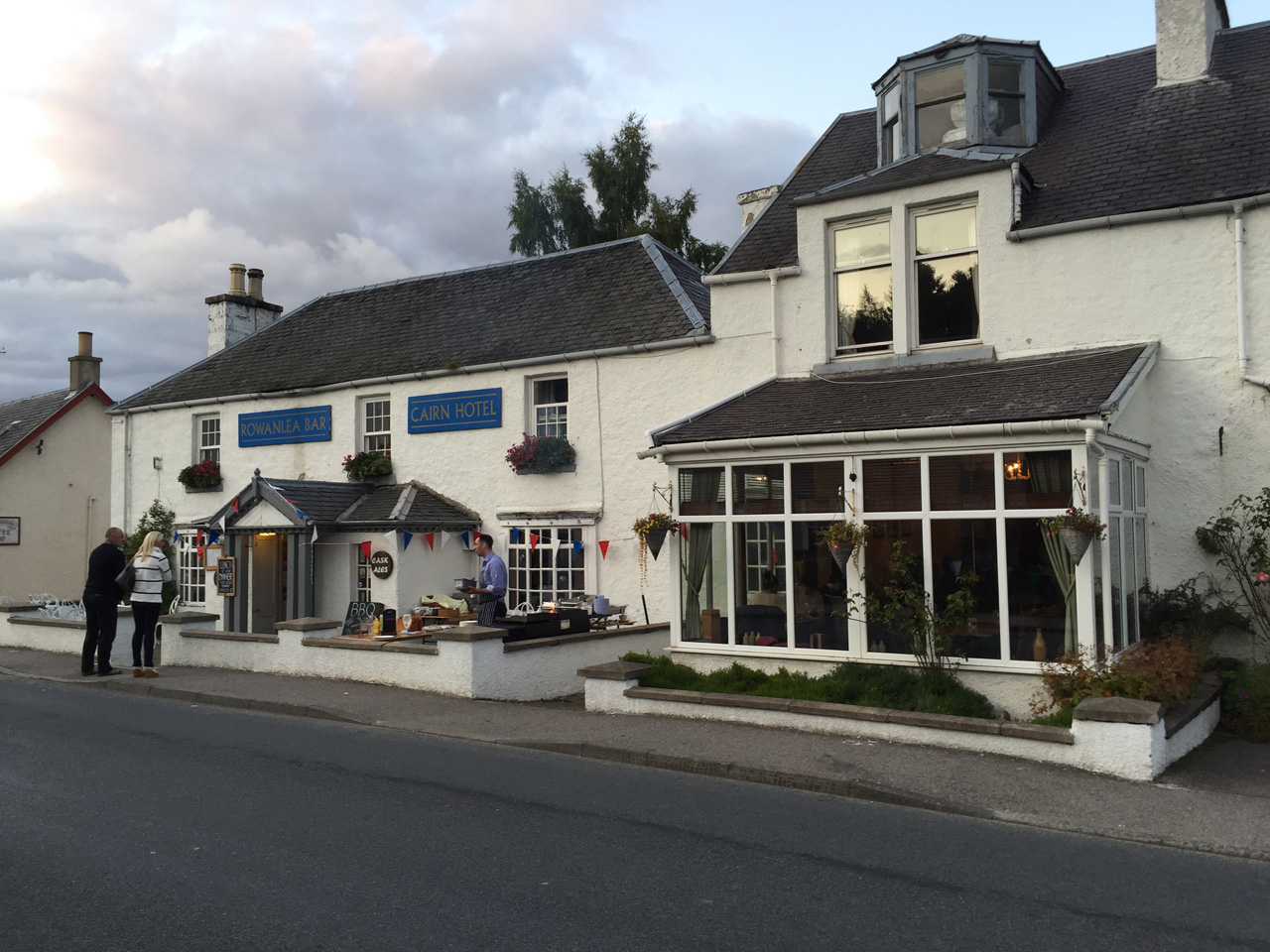 I passed my accommodation, the Cairn Hotel, a couple of times, before pulling into its main car park, which I instantly regretted, as the car park comprised a deep gravel base, which, as anyone who rides a motorbike will attest, makes riding extremely difficult. For a moment, I thought I might come unstuck and drop the bike for the first time ever, but in the event, I quickly regained control and was able somehow to turn the bike around and exit the main car park, pulling up instead at the front of the hotel while I checked in.
I had arrived at the decidedly decent time of 18:00 with 20% battery remaining, having travelled 84.3 miles since my stop near Crieff.
Outside the front, the proprieter/owner, Gareth Paschke, was busy cooking on a barbecue. He commented that he'd seen me pass and assumed by the lack of noise that it was probably me. Locals were passing and it was obvious that this village was a genuinely close-knit community, as well as a tourism area, as greetings and conversations were exchanged between Gareth and several passing locals.
I was shown to my room and then settled in. It was clear the staff were busy, so we arranged to sort out charging the bike later. Gareth suggested I take it around the other side of the hotel and park next to his own car under the car port.
Having settled in, I ventured downstairs to the bar. The pub was already starting to get busy, so I ordered some food and decided to sit outside the front. I got chatting to a family who had travelled up from Lancashire and had apparently visited the Landmark forest adventure park, located at the edge of the village. Once more, my memory of that holiday from 1983 was triggered and it occurred to me that this was another place we had visited all those years ago.
I asked if the park had a tree-top trail you could walk through and they confirmed that this was the case and handed me a leaflet from the park. I had no recollection of where this place was, nor what it was called, but by pure chance, I had booked an overnight stay in the exact place it was located.
Another reminder of childhood, Scotland, and indeed the area of Yorkshire where I grew up were brought back to me as I suddenly felt the unmistakable sensation of midges around me. I hadn't experienced the little pests for years and I have to say, I'd forgotten how irritating they can be. Finishing my meal as politely as I could, I retired to my room and transferred the day's video from the camera to hard drive.
Just after 21:00, I headed downstairs and we sorted out power for the bike, I only had to use the single charge cable for the overnight charge again, but used one of the long extension cables to reach the kitchen window. Once plugged in, I could relax, so I headed back to my room, showered, and got a relatively early night.
Monday, 21st August, 2017
The final day of the mainland part of my trip, and I was very much looking forward to it.
I was up again at a more reasonable time and went down for breakfast at 08:30. Once more, Gareth was up and working, waiting on the guests. He enquired as to what I'd like and I said that it would be rude not to have a proper Scottish porridge, so that's what I opted for, and it was certainly delicious. I subsequently discovered that Carrbridge hosts the annual World Porridge Making Championship, which, in a blow to Scottish pride was won in 2017 by two Swedes.
Having sufficiently filled up on the finest porridge oats, I bade my farewells and headed off at 09:30. The weather was perfect and, as I exited left out of the village onto the A938, I was in such a good mood to be riding the bike in such a wonderful location on such a nice day. The road snaked around for a while, before I finally re-joined the A9 once more, and this time, I was going to be staying on it until my first charge stop. I tried to keep my speed at around 50 mph, to preserve energy and this proved to be a perfectly adequate speed. As the A9 at this point is a dual carriageway, I wasn't delaying anyone, so found the riding very relaxing.
At Daviot, the road levelled off, turned slightly to the right and began the descent to Inverness, with the Moray Firth stretched out in front: a great view from that vantage point.
Having skirted Inverness and crossed the Beauly Firth over the Kessock Bridge, it was on to Duncanston, where once again, after the trees cleared from either side of the road, I was treated to the wonderful panorama across the Cromarty Firth.
Crossing the Cromarty Bridge, the A9 then heads north east, along the north bank of the Cromarty Firth initially, past Alness and along the rather flatter plains, giving the impression of a big sky. As the road turned north and skirted Tain, the road again offered up a spectacular view, this time across the Dornoch Firth, and passing the Glenmorangie distillery on the banks of the firth, I crossed onto the Dornoch Bridge, at which point the scenery was irresistible and I decided to stop.
I noticed a couple of bikers in front of me and got chatting with them. It transpired they were fellow Yorkshire folk, from Wakefield, and were undertaking the North Coast 500 route. I offered to take a photo of them then left them to their drinks while I took a couple of photos, recorded a little video, then continued on my journey into Sutherland.
There was a very pleasant set of bends to ride and then a nice view along Loch Fleet at The Mound. Following on from there, I was onto the succession of towns and villages which flank the A9 as it hugs the eastern coast all the way up to John o'Groats, the first of which was Golspie.
Shortly thereafter, and just before passing Dunrobin castle, I encountered the rather unfortunately ironic sight of a car which had left the road and launched up a grassy bank, closely followed by a "Thank you for driving carefully" sign. Rounding the bend from there and back out of the trees it was a short run to my charging stop of the day.
I arrived at the Sutherland Inn, Brora at 11:34 with 5% of the battery remaining. I had been told when I contacted the inn that they weren't officially open to serve until midday, but that I would be welcome to charge before then, and sure enough, they were true to their word. I met the owners, a friendly couple, originally from South Africa, and they let me plug the bike in through a window into a double socket in their restaurant, with the bike parked just off the street outside the front of the inn.
Initially, I sat in the dining room alone until they opened the bar, at which time I went through. I wasn't there long before a local, Donnie, struck up conversation with me. We chatted about all sorts of things.
Donnie, now retired, had worked as an electrician in nuclear power plants and was well travelled. He told me about his grown-up children, a couple of which had gone on to join the police, and his daughter, who sadly passed away. I made the faux-pas of trying to sympathise with the words, "you shouldn't have to bury your children", at which point he burst into tears. He apologised for being upset, but I felt foolish and tried to console him as best I could.
Shortly afterwards, another local, Billy joined us. Billy joined the conversation and both of them insisted on buying me drinks and refused to let me get a round in turn. I was only on soft drinks, of course, but felt bound to get them both a drink. The more I insisted after three or four rounds, the more they declined, much to the barman's amusement. I looked at him bemused and said the situation reminded me of the episode of Father Ted where Mrs Doyle and her friend end up being arrested after fighting over which one of them would pay for their drinks.
After some time, Donnie made his excuses, but before departing handed me £20 for my fundraising and insisted I accepted it. I thanked him very much. Billy and I continued our conversation and he eventually relented and accepted a drink.
Shortly after 15:00, I noticed the bike had finished charging. I thanked the owners, who apologised that I had been 'taken hostage' by two of the most colourful local characters, but I insisted sincerely that I had enjoyed their company. They'd kept me amused with good conversation for around three hours and I was grateful. I thanked them for allowing me to charge. They wished me luck for the onward journey and at shortly after 15:15 I set off for the final leg of the mainland part of my journey.
From Brora, I only had 63 miles to cover to John o'Groats, so I was already in a relaxed mood leaving there, knowing that I need have no concern about managing that distance. Since I'd stopped to charge, the sky had clouded over a little with some low cloud, but there were still patches of blue sky around.
Eleven miles from Brora, I passed through Helmsdale: another name familiar to many electric vehicle owners, as it boasts a rapid charger for cars.
After Helmsdale, I had the Berriedale Braes to face. This was the first time I had been on this section of the A9 and from what Donnie, Billy, and others in Brora had said, I had built it up to be a massively steep section of road. It actually is reasonably so in places, as far as UK roads go. A section of it is a 13% incline and there are some tight hairpins, but nothing out of the ordinary in comparison with roads in the Alps, which I have ridden fairly extensively.
In reality, the section of road has a reputation, because the hairpins are notoriously difficult for LGVs in particular to negotiate, especially when they come face to face. The road is a vital communication link between Caithness and the rest of the country and when there have been accidents in the past, there can be hold ups for several hours. At the time of writing, changes to the notorious hairpin on this section of road are planned.
For my part, I had no problem and in fact the bike had an opportunity to show its true torque when I throttled out of a bend on a steep incline and it just responded effortlessly, as though it were merely a level section of road. It was a moment where I genuinely felt the true and effortless power of the bike's electric motor in contrast with the engine on a petrol bike.
I continued up the A9 coastal road, pausing only briefly at Newport to take a photo out over the sea, past Dunbeath, for whose residents construction of the A9 flyover must have been a mixed blessing, and then at Latheron turned off the A9 on to the A99, continuing in the same direction of travel up the coastal road, arriving in the relative bustle of Wick after a further 16 miles.
Outside Wick, I turned right, spying the sign which indicated only 13 miles left to John o'Groats, then rode through the village of Keiss. As the sky cleared to a predominantly cloudless one, the road dipped and I saw stretched out before me the coast and Orkney in the distance, then passed the John o'Groats sign and John o'Groats Guest House.
Rounding a bend to the left and passing a few houses, I rolled off my speed as I passed the Seaview Hotel and began the light descent down to towards the Tourist Information Centre and souvenir shops near the John o'Groats Hotel and famous signpost.
As I approached the signpost, I could see that there were only a couple stood next to it and three people walking away from it. I waited somewhat impatiently as the three people moving away seemed to take an impossibly inordinate amount of time to move out of the way so that I could ride up next to it. I wasn't sure what the protocol with regard to me riding the bike up there would be and half imagined that someone might take exception, but by that stage, I didn't care. I was elated to have made it to this point.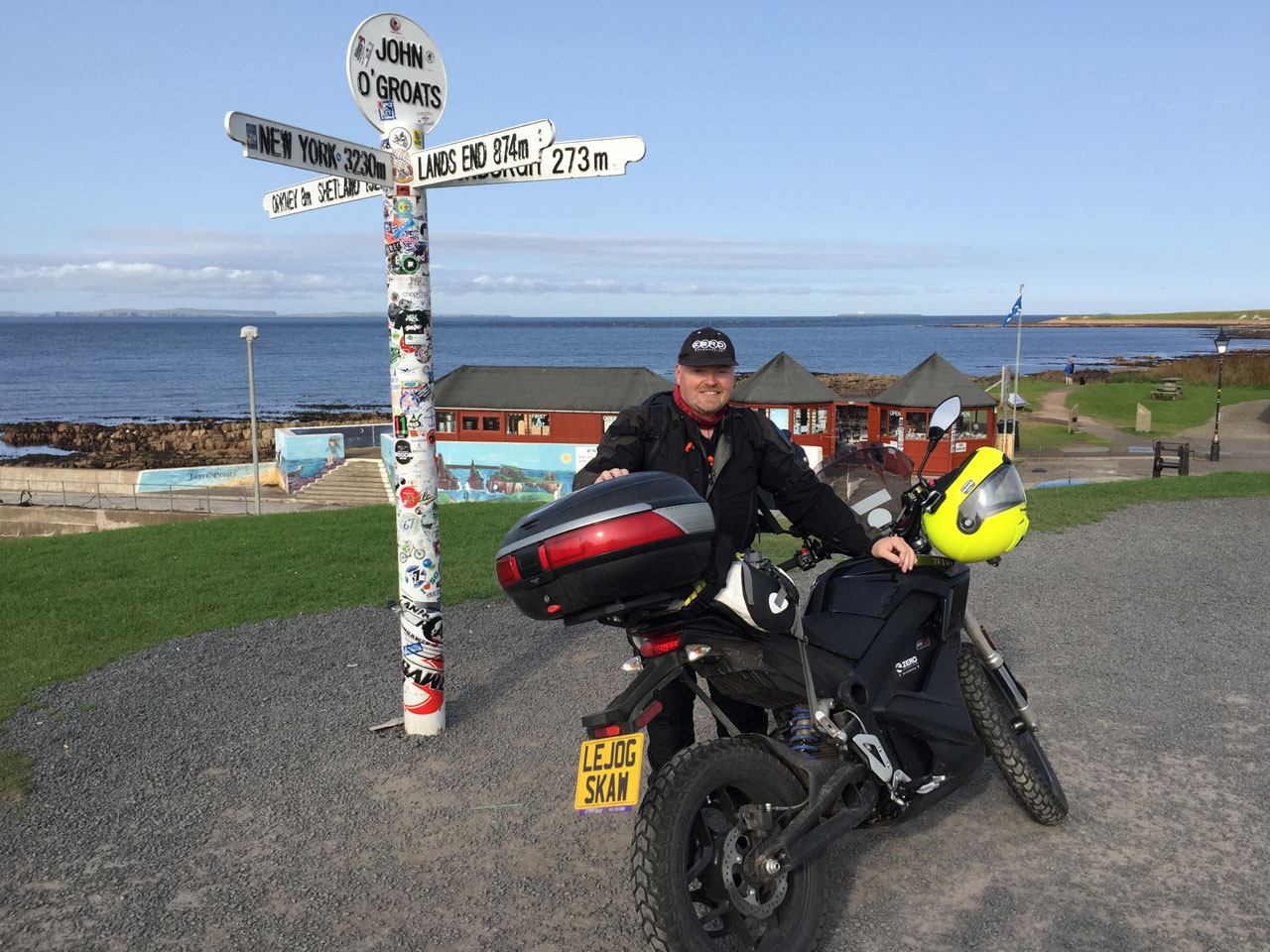 After what seemed like several minutes, but was in fact only a few seconds, I approached the sign, and, while still sat on the bike, ceremoniously touched the signpost at exactly 17:02.
I had thereby become the first person to ride an electric motorbike from Land's End to John o'Groats.
I asked a couple near the sign if they'd be kind enough to take a couple of photos and a man called Kamal obliged, so I returned the favour and got a photo of him and his partner together. Then, I filmed a short celebratory video and captured some of the surroundings.
Checking the bike's stats, I could see I had 16% battery left with 15.7 miles estimated range remaining. I decided to allow myself a few minutes to appreciate the moment, then rode over to the nearby car park, parked up and went into one of the shops, intent on collecting a souvenir fridge magnet: an activity which has become somewhat of a tradition at home now whenever we go somewhere.
In the shop, I got chatting to the owner and explained what I'd done. He took great interest in this 'first' and asked for my details, saying he wanted to pass them on to a Caithness journalist he knew. He also advised me to sign an "End-to-Ender" book in the tourist information centre, which I duly did.
My next thought was not to go immediately onto my nearby accommodation for the night, but to explore a road back just before the Seaview Hotel signposted to Duncansby Head, a distance of 2 miles away.
I should confess that at this point, I wasn't aware of Duncansby Head or its location, but just from the layout, I could see that it was to the north east of John o'Groats, sounded like a headland, and wasn't that far away. I had time and energy left, so I thought I'd take a look.
I'm glad I did for a couple of reasons. The road there was a pleasant single track to ride and afforded very pleasant views out to sea towards Orkney. Following the road to the end, I came to Duncansby Head Lighthouse. I discovered that although John o'Groats is traditionally recognised as the furthest point from Land's End on the UK mainland, it is in fact Duncansby Head which is the rightful claimant of this title. It would have been a pity to do the trip and then to find this out later, so I was glad I went there too.
After I'd taken a couple of photos there, I decided to make tracks to my accommodation for the night, just under five miles west of Land's End at Bencorragh House Bed & Breakfast in Upper Gills, arriving there at 18:11 with 14% remaining. I was greeted by Sandy Barton, with whom I'd spoken on the phone to book the accommodation. She struck me as quite a forthright, no-nonsense person, but friendly enough, and reminded me a little of my late aunt in this respect.
I find the key with people is to engage with them rather than make a rash, early judgement about them and become antagonistic. People have a view of those in hospitality that they should be scraping and crawling to customers. I prefer to treat them with the same respect I'd afford anyone else. Yes, we are 'customers', but we are receiving a service in kind, and, having experienced and been on the receiving end of unpleasant guests in hotel work in my early working life, I know the score.
Sandy advised me where I could plug the bike in and then showed me to my room. The house had a very familial and homely feel to it, and Sandy and her husband Ron have a passion for displaying dogs, with multiple awards displayed proudly on one of the walls.
They have a communal conservatory area sheltered on the inside of the U-shaped building, so away from the otherwise quite gusty winds I imagine they are subjected to on occasion. The conservatory was extremely cosy and warm and there were three cats roaming around. As a cat owner, I appreciated how friendly they were and it transpired that they were cats which the couple had rescued. They kept livestock too, running a working croft in addition to the Bed and Breakfast. Ron is in his 80s and is still keeping very busy. He told me his GP had advised him not to stop and he did appear to have the energy levels of someone twenty years his junior.
My room had no TV, so having done the usual transferral of video footage to hard drive, I returned to the communal area, which was also the only place WIFI was available, and chatted some more with a couple of other guests and Sandy and Ron while one of the cats made itself comfortable, curled up on my lap.
After a while, I excused myself and turned in, ready for a relatively early start the following morning.
Tuesday, 22nd August, 2017
The mainland part of the trip done, everything from here felt like a bonus, although my plan was still to get to Skaw on Shetland, as it had been from the outset, so the challenge was still very much there, as far as I was concerned. Today, I was back to an early start, as I had a small journey to make to Scrabster to catch the ferry to Stromness on Orkney.
Ron was acting as waiter for my early breakfast, but aside from his occasional trips in to deliver coffee or toast, he left me to it. I was ready for the off at 07:00 and headed off at 07:11 on a dry but cloudy morning. The road to Thurso, the A836, was rather unsurprisingly quiet and the journey uneventful. I did pass a turn-off for another UK extremity, Dunnet Head, the most northerly point on the UK mainland, but I didn't have time to head up there and wasn't really concerned to do so. I suppose I could have started from Lizard in Cornwall and included the most southerly point on the UK mainland to the most northerly point on the UK mainland too, but Land's End to John o'Groats is the long-established traditional trip between the UK mainland's two extremities, and in any case, Skaw would top Dunnet Head as a northerly destination.
Taking the A9 out of Thurso, I was at Scrabster by 07:43 in good time to make the crossing.
As I pulled up to the dock and the check-in point and greeted the staff member behind the desk, he pre-empted me giving him my name or any reference.
"Hello, Mr Chivers."
"Mr. Chivers, yeah. There can't be many bikes then."
"No, you're the only one this morning."
I pulled up, first one there, and once instructed, rode onto the ship. Unlike my usual ferry crossings to mainland Europe on the Harwich to Hook of Holland route, where you have to secure your own bike, the Northlink folk secure the bike for you and I have to say I was quite impressed at the care they took. They were very intrigued by the bike and asked me about it.
One aspect of the Zero which is an easy thing not to consider is that the lack of gears means that there is no built-in means of locking the wheels. On a standard petrol bike, you can just leave the bike in gear and know that it won't move forwards or backwards. This has never been an issue to date with the Zero, but for my ferry crossings I came prepared with a brake lever lock, which held in and locked the front brake lever and achieved the desired effect of not letting the bike move forwards or backwards.
Once the bike was secured, I made my way upstairs to the lounge deck and found a seat for the crossing. I didn't move around too much during the crossing. The weather outside wasn't ideal and I was more interested in planning what I was going to do during the morning, as I'd arranged to meet up with an Orcadian resident at midday, so had some time to kill.
Between an information leaflet and the historical sites listed on my satnav, I managed to string together a few places to visit before I reached Kirkwall. The crossing was otherwise smooth and uneventful, and at just after 10:15, I was disembarking at Stromness on Orkney: the first time I had set foot (or indeed wheel in this case) on the island.
It transpired that the first place I visited was nothing at all. Down a back street on the edge of Stromness, it was behind the Stromness Academy, but had been listed on the Garmin database as a sight. It was a 'sight', but not an especially inspiring one, comprising concrete foundations, tarmac, and a couple of bungalows. I moved on.
My next stop was more interesting. Unstan chambered cairn is a Neolithic round chambered cairn, around 5,000 years old and was constructed as a communal burial place. It is positioned in a quite unassuming place, down the end of a small path by a house.
I parked up at the end of the pathway and took a walk down to the cairn. The cairn was sealed from access by a closed gate, but it was possible to peer into the cairn. It's a strange thought that this small, unassuming mound predates several world civilisations, including of course any notion of Britain or its surrounding islands as part of a unified country.
I left the cairn and headed east again, this time a short distance to see another couple of Orkney's ancient landmarks: the Stones of Stenness and Ring of Brodgar.
With what sounds like veritable bet-hedging, or possibly in these more litigious times, sensible self-protection from any potential legal action, the Standing Stones of Stenness are dubbed as probably the oldest henge in the British Isles. Indeed, they are the Carlsberg of henges.
Now, I like a good henge, and these stones are certainly something to behold. Again, one can only imagine what these stones have witnessed through the millennia as generation after generation has found different significance in them. All the more tragic that they were almost destroyed in the early 19th century when a certain Captain Mackay, who had purchased land around the stones decided that he would remove them, as they were attracting visitors onto his land. He was stopped, but not before he had smashed the Odin stone, which had been used traditionally for couples to pledge engagements through a hole its centre.
It brings to mind those religious fundamentalists who have destroyed priceless artefacts like the Bamiyan Buddhas in Afghanistan or the cultural heritage laid to waste even more recently by ISIS. Such small-minded barbarism, destroying antiquities which predate by centuries but fall victim in moments to the whims of religious extremists or selfish landowners!
The nearby Ring of Brodgar is an even larger henge in diameter, the third largest in the British Isles, and once comprised 60 stones of which 27 remain today.
By the time I'd arrived at these locations, they were already surrounded by coach tours of people and I didn't stay around too long. If I were to do these sites justice, they'd need a great deal more time than I had available, but catching a glimpse and taking some photos was good enough for me on this occasion.
My next stop was a short distance along again on the parallel road across the Loch of Harray, Stoneyhill Road, and afforded a wonderful view across the loch. I took some landscape photos and then decided that, as time was pressing on, it was time to head to Orkney's capital, Kirkwall, for my planned meet-up with fellow EV advocate, Jonathan Porterfield.
Jonathan runs Eco Cars, an Orkney-based electric car dealer, originally from Leicestershire, who, although based on Orkney, works on a national basis and has driven electric cars from and to all over the mainland on countless occasions. Jonathan, together with Chris Ramsey of Plug In Adventures, became the first to drive an electric car from John o'Groats to Land's End and back in 2015 in the Nissan LEAF, at the time beating the existing time for the trip from John o'Groats to Land's End, so as well as meeting a fellow EV advocate, and one I knew through the community and social media, it was good to chat with a fellow End-to-Ender.
He turned up in an electric Smart car and then asked me if I was ok to head over to the BBC, where he'd kindly arranged an interview with BBC Radio Orkney. I followed him, and in between dodging cruise ship tourists, we entered down a narrow driveway to the side of the BBC building, where we were met by a couple of BBC bods with some equipment to record a quick chat and an audio capture of the bike accelerating. I waffled on about the bike for a while and then Jonathan and I headed off to meet a few local garage mechanics, who were also quite interested in the bike, and also the proprietor of the nearby Orkney Roastery, who very kindly gave me a packet of their very good coffee.
From there, we headed to the HQ of the Orkney Surf'n'Turf project, which is working on harnessing Orkney's abundance of renewal energy in the form of wind and tidal power to produce hydrogen by splitting off the hydrogen from the oxygen molecules in water in an electrolyser, releasing the latter back harmlessly into the atmosphere, and then transporting the hydrogen to Kirkwall, where, in a reverse process, it will be fed to a hydrogen fuel cell, producing electricity for use on demand in Kirkwall Harbour and heat as a by-product for local buildings.
As part of this project, Orkney College is concentrating on becoming a world-leader in training international participants on the use of hydrogen at sea. Hydrogen is of course an extremely dangerous and pernicious gas and the project is ensuring that Orkney's expertise in this field will be second to none by perfecting seaworthy technologies initially on dry-land, with a longer-term view to deploying hydrogen fuel cells as fuel in shipping, which will revolutionise fuelling of ships and cut gargantuan amounts of pollution associated with shipping.
There are long-standing debates about the benefits of hydrogen fuel cells versus battery vehicles, and people who have a mindset which sees the future of personal transportation fundamentally routed in the 20th century model of car ownership are more easily able to relate to topping up their vehicle with a liquid fluid, and so many tend to imagine hydrogen as the obvious winner of the two.
But the reality is that while the promise of hydrogen fuel cells is long-standing, there are several disadvantages to using hydrogen in smaller vehicles, from the engineering tolerances required to safely store a large tank of fuel to the comparative inefficiencies of a hydrogen fuel cell when compared with a straightforward battery. Hydrogen is an energy storage mechanism and not an energy source in this context and, from a domestic perspective, the energy used to create the hydrogen in the first place would be better put into batteries.
Nevertheless, hydrogen is a very good energy storage solution, and given the size of ships and the lack of a power supply into which they can readily plug themselves, they would seem to make a very attractive means of fuelling future vessels.
While in Kirkwall, Jonathan also pointed out the island's diesel electricity generators. Although Orkney produces more electricity through renewables than it can consume, but there is no means for it to export excess electricity back into the national grid on the mainland.
The diesel generators have to be fired up periodically to ensure that they are still in working condition, should they be required. The project to convert the excess electricity to hydrogen will allow the island to harness this excess and store it, so hopefully it will not be too long until the diesel generators themselves become a mere relic of the past, even if they aren't quite as picturesque as the island's Neolithic monuments.
After speaking with some of the people involved in the Surf'n'Turf project, we headed up the long and straight A996 towards the north of Orkney's mainland island, where Jonathan shot some footage passing me and of me overtaking him and then we headed off road, onto a gravel track and up to Hammars Hill wind farm, where, in an ideal location, five turbines produce 4.5MW of electricity for Orkney in a project which was locally financed and which provides an ongoing source of income for its investors. It was established in 2010 and generates in excess of 20 GWh of electricity for Orkney over the course of a year.
The view from there was stunning and somehow, despite all the wind noise, we managed to record a small, audible piece to camera by placing my phone in my bike jacket pocket to act as a wind shield and just speaking up. I was surprised by the reasonable quality of this recording.
From there, we headed back down to Jonathan's house, where he kindly let me plug the bike in to charge using his home level 2 charger and he filmed a clip of the procedure. We then had a cuppa and a chat and I attempted to record an interview with him concerning his work as a pioneer and key player in the independent electric car dealership market.
Unfortunately, I was unable to find the lavalier microphone I had packed and so was reliant on the camera's audio, which sadly, at the distance it was positioned, was not especially loud, but it was nevertheless an enjoyable chat and it was interesting to hear the story of what led him to become probably the most widely known and foremost independent EV dealers in the community.
Later in the afternoon, he had a meeting scheduled in Kirkwall regarding a vehicle to grid solution under discussion and asked if I would like to attend. It was certainly of interest and so while the bike charged, we headed back into Kirkwall in his electric Smart car, which certainly impressed me. For a little car, it had some poke, but again, that is to be expected from vehicles powered by electric motors.
The meeting itself was quite an interesting meeting to attend.
Essentially, vehicle to grid is a concept which has been under consideration for some time and was in the minds of many automotive manufacturers in the design of their cars. Essentially, it involves using the car's battery as an electricity storage device. On a small scale, this could be used in a single house to provide storage when energy production is high and cannot otherwise be used by the house: for instance, if solar panels are creating more electricity than is being consumed at a given time, the excess can be put into the car battery and then some of the car battery can be used when the supply drops off, for example in the evenings.
This is the same concept as the Tesla Powerwall (essentially a large, domestic battery) and other such battery storage solutions by the likes of Bosch. Nissan themselves had planned to launch a similar product, making use of reclaimed batteries from their Nissan LEAF vehicles when they had passed their useful working life in a car.
A battery which has lost capacity in the high demand of an automotive environment could still provide many years of useful service as an energy storage device before it would be past its shelf life and would have to be recycled (and these batteries can be almost fully recycled).
It's a rather strong testament that to date Nissan haven't launched their energy storage product, because they haven't had sufficient quantities of batteries whose capacity have fallen below the threshold which makes them practical for cars. They're performing better seemingly than even Nissan expected in terms of durability.
The advantage of using a car for energy storage is twofold: it means that customers would have an added incentive to buy the car, because it would be serving an additional service and saving the owner money, and it also means that there would be no separate outlay required for a dedicated battery storage system. They have also already proven themselves in real-life disaster areas, where grid power has been lost and electric cars have been able to step in to supply emergency electricity.
The standard rapid charging standard on the Nissan LEAF, CHAdeMO, is designed to allow electricity import into the car and electricity export from the car, so the car is already set up for this purpose.
On a wider, national grid scale, the longer term idea, as adoption of electric vehicles increases, is to use the vehicles as part of a localised smart grid, which would allow individual owners to assign a certain percentage of their vehicle batteries for use by the grid as an energy storage solution in return for a fee or discount on their bills and thereby to decentralise supply from large power stations to communities, easing demand on large power stations and pushing it to local levels, whereby electricity transmission losses are also minimised.
Back to the meeting in Kirkwall, however, and the discussion involved trialling the vehicle to grid model out at Jonathan's house, fed from a solar PV array. These were early discussions, but people seemed keen to push ahead. As is always the case, however, there is a great deal of preliminary work which needs to be done before the go-ahead. The meeting finished, we headed to a local restaurant for a meal.
Having enjoyed a very pleasant meal, we headed back to Jonathan's and then it was time for me to head off, the bike fully charged by now. I packed everything away, togged up, thanked Jonathan for his time and hospitality, and headed off back towards Kirkwall (Hatston) ferry terminal to check in for the overnight crossing to Shetland.
I tend to like to get to places early when I'm travelling, but I was a little too early to the ferry terminal. It had turned a bit cold, so I took shelter beside the check-in point while I waited, accompanied by the hypnotic sound of the nearby wind turbine calmly doing its business.
For the life of me, I still don't understand why people find wind turbines unpleasant and even this close, I can't say I'd have been bothered living next to it: certainly far less noise than I've experienced from road noise - and a far less damaging process too.
MSC Preziosa provided additional entertainment. This four-year-old, huge cruise ship with 18 decks and a gross tonnage of 139,072 had been visiting Orkney and was departing before my ferry was due. The guests were being serenaded by a band and quayside entertainment which was pulling a number of clichés out of the bag.
In time, the ticket window opened, I checked in and I made my way along to the passenger terminal building, where we were to await the arrival of the ship from Aberdeen. This was quite a long wait, as check-in opened at 21:00 and the ship didn't sail until midnight. Nevertheless, I watched the Preziosa sail off into the distance and otherwise kept myself occupied.
When the time came to board, I was quite relieved. I was tired and just looked forward to getting to my cabin and bed. I boarded the ship, the MV Hjaltland, which has played host to me on previous visits to Shetland, and the Northlink crew once again did a sterling job of securing the bike for the crossing. Then I made my way to my cabin, showered, transferred the day's footage to disk, and then grabbed a good night's sleep on a smooth crossing.
Wednesday, 23rd August, 2017
Following a pleasant sleep I awoke in time to get up on deck and catch us pass the Bressay lighthouse and the approach to Lerwick.
The weather looked promising, with the early morning sun starting to break through and I took the opportunity to record a small video clip to camera, in which I made reference to the use of hydrogen fuel cells for ships rather than diesel, referencing the effects of ships in dock at Southampton have on the air pollution there, which is pretty substantial.
At 07:43, I disembarked and was off on the start of the final leg northwards of the trip and oddly, for such a remote part of the UK, back on familiar soil, my brother Paul and family having moved to Shetland in the mid noughties. It's somewhere I've visited four times now in the intervening years and explored reasonably well, though not extensively.
It's also somewhere my family was on the verge or relocating to in the late 2000s. The plan fitted in nicely with Paul's plan to move into a new house they were building there, and involved us taking on their existing house without needing to involve estate agents. It was also at a sensible period in our children's schooling, but that particular opportunity passed when the recession hit and we struggled to sell our house thanks to prospective buyers being unable to get a mortgage.
We weren't massively upset about not moving, but do occasionally wonder how things might have been. Nevertheless, one needs to be pragmatic about these things and move on. It's almost certain that I wouldn't have been doing this trip if we had moved there anyway.
I've certainly explored most of the main places of Shetland and some areas of personal interest, notably around the story of the Shetland Bus: an operation which smuggled operatives and resistance fighters into and people at risk out of occupied Norway during World War 2 under the guise of fishing boats.
The ties between Shetland (and indeed Orkney) and Norway are strong historical ones. Shetlanders don't really consider themselves Scottish, but rather of Nordic stock. You can indeed hear a slightly Scandinavian lilt in the accent and local dialect words from the old Norn language are still in common use.
The bagpipe isn't a Shetland instrument: Shetland is very much about the fiddle. The SNP doesn't hold the seat in Westminster, where Shetland (and indeed Orkney) have been held by the Liberals and latterly the Liberal Democrats almost entirely since the mid 19th century, save for a 15 year period of Conservative rule between 1935 and 1950.
And then of course there's the famous January Viking fire festival Up Helly Aa, which takes place in late January every year.
There are even those on Shetland who have called for what would possibly now be dubbed Shexit: an independence movement from Scotland and the UK. It seems that the junior partner in any senior/junior political relationship likes to kick up and the Shetland/Edinburgh dynamic is no exception. The most extreme form I've seen of this expression of 'home rule' is the defacing of the thistle symbols on the brown Scottish tourist information signs in Shetland.
A certain English immigrant to Shetland, Stuart Hill, or as he is commonly known for his ill-fated sea journeys, "Captain Calamity", asserts that Shetland does not belong to Scotland or the United Kingdom. He would like to see Shetland as crown dependency, along the same lines as the Isle of Man.
His claim does at first glance have some merit. In 1468, Shetland and Orkney were part of Norway. When King Christian of Norway could not come up with a marriage dowry for his daughter in her marriage to King James III of Scotland, he pawned Shetland and Orkney, but no time limit was set and no legal document incurred the right of ownership of Shetland and Orkney to Scotland, so on a constitutional basis, he does seemingly have a strong case. Nevertheless, what may be true constitutionally-speaking hasn't de facto been the case for centuries, and although if it ever came to a legal case, he may have a metaphorical leg to stand on, it will, in all likelihood, never come to that, with those in power simply ridiculing him or just ignoring him and thereby leaving him, to continue a bad metaphor, legless.
His view is a minority one. Whenever he stands for elections, he performs badly, and he is widely seen as a reasonably harmless eccentric, although the RNLI may have a slightly different view, his exploits estimated to have cost them tens of thousands of pounds in rescuing him.
From Lerwick, I took the A970, pulling over periodically for a photo of the surroundings and to let the odd faster vehicle pass me. When Paul and family moved up to Shetland over a decade ago, he compared it to the village in West Yorkshire we had grown up in.
"It's like Oxenhope with sea."
And that is indeed a reasonable description of the landscape: slightly reminiscent of the moors around the Brontë countryside, but wetter around the edges and often quite a bit windier. Though the Norse gods were apparently on my side this morning.
At 08:43 I boarded the ferry at Toft near the Sullom Voe oil terminal on Shetland Mainland (the largest of the many islands which make up Shetland) for the 15 minute crossing to the island of Yell: the second largest island. By this time, I was really starting to feel pleased at having made it this far without any problems, but, as much as I rationally loathe any form of superstition, we humans are predisposed to it, and the old, instinctive part of my brain responsible for maintaining some semblance of superstition did think that I might be jinxing the last part of the journey.
Nevertheless, 15 minutes later, I was heading off the ferry in Ulsta on the island of Yell and on my way again for the penultimate part of the trip northwards. I have never really explored Yell on previous visits to Shetland and today was to be no different. I had one goal and was fixated on reaching it as soon as I could.
As I neared the top of Yell, the last remnants of the low lying-cloud were clearing and the sky ahead looked positively blue. I reached the final ferry crossing at Gulcher to take the ferry across to Belmont on the UK's most northerly inhabited island, Unst, at 09:32. As I arrived, I could see that the ferry was still in dock, but I was the only vehicle waiting, so surmised that I had just missed the boarding. However, after a few seconds, the barrier opened and a crew member from the ferry beckoned me on.
The crossing, a mere ten minutes or so, is on a smaller ferry and unlike the crossing from Mainland to Yell, I stayed with the bike.
From the ferry, I took the road (the A968) north to Baltasound, the largest settlement on Unst, to which I would return once I'd reached my target.
I continued on the single track road past the Valhalla Brewery (whose products I can vouch for) and then past the settlement of rather modernistic looking dwellings which made up the lodgings of the personnel of the former RAF Saxa Vord. During the Cold War, this radar station boasted hundreds of RAF crew at one time. Further north than Saint Petersburg, it kept a watchful, early warning eye out over 750,000 square miles.
It finally closed in 2007, having spent its latter years as a remote unit (controlled from RAF Buchan) and the associated buildings and residencies in Valsgarth were sold off for redevelopment. Some of the buildings house small businesses (and indeed the Valhalla Brewery) and the former personnel quarters have been converted to holiday homes.
In a twist and a sign of political instability, a few days after I completed my trip, it was announced that Saxa Vord would once again be reopened, albeit once again as a remote station. While the initial work will involve tens of people employed in re-establishing the station, it will be manned by a handful of on-site personnel.
It is at this point of the trip where one passes the UK's most northerly everything: most northerly brewery, bus stop, and church, amongst other most northerly things. It's pretty safe to say I was riding the UK's most northerly electric motorbike that day.
Rounding a bend from here, the settlement of Norwick came into view and I was reminded of a previous visit when Paul's family and my family had spent a very pleasant time on the beach there, but again, this was no time for stopping.
I made the final turn off the road and onto Holsens Road: the last stretch of road towards Skaw and just as I rounded some farm buildings, I saw a couple of road maintenance vehicles ascending the hill in front of me. I cursed them under my breath for visually polluting the last stretch of my trip to my destination, but in the event they soon pulled over to their work at the side of the road and I was able to continue alone.
By this time, I could hardly have asked for nicer weather. With the exception of a slight haze, the sky was a blazing blue and I was delighted that conditions were so nice for the last part of my trip. A short time later, as the land dipped away, the familiar sight of Skaw and its beach came into view. It was picture perfect and I took the moment to record a small video clip and take some photos of the bike overlooking the beach.
The thought occurred to me, with just the descent down to Skaw Beach ahead, that nothing was going to stop me from reaching it now, and again part of me objected. "Well, you could still get a puncture." It wouldn't have mattered. I'd have pushed the bike the last half a mile or so and repaired it by the beach. But, in the event, I was fine and, letting the bike's regenerative braking take the work and dodging the sheep, I savoured the approach down to the UK's most northerly house: a croft house, which I assume is still owned by a couple of brothers.
I ensured I rode right to the very end of this, the UK's most northerly road. Then I turned the bike around slightly for some photos and to take some video of me having reached my destination.
I'd arrived at 10:21 with 19% capacity of the battery left and had covered 1022 miles (1646 km) since departing Land's End.
And then, once I'd done the obligatory photos and mocked up a clip of me riding back up and away from Skaw, I took the time to relax and enjoy the surroundings. Completely alone, once again I took it all in, and then, as ridiculous as it sounds, it suddenly hit me.
Of course, I'd known from the outset what I was doing, but what dawned on me at Skaw was that as electric vehicles will be the norm in the not-too-distant future, there will be many people who make the same trip over the coming years, but this was the first time that it had been done, and yes, I was proud of that. Not even so much for me, although it's a nice thought to carry through life and for my family in future that one of their own was the first to do the trip on an electric motorbike, but just the fact that the technology had proven itself.
Sure, it would have been easier on a petrol bike, but that wasn't the point of the journey. The point was to prove that even in these very early days of EV adoption, a trip such as this is possible.
Of course, electric motorbikes, like electric cars, will improve considerably in the next few years as the price of batteries falls and capacities increase. Those undertaking the journey in the future will have a much easier time of it, with much higher capacity batteries and at some point rapid charging will be available. It's not too ridiculous a notion that the whole journey will be possible without needing to charge en route at all.
For now, I was extremely proud of the bike for not putting a foot (or wheel) wrong the whole trip and for never letting me down.
I spent a few minutes enjoying the fine weather and walked a little way along the beach, filming a little more and taking more pictures. Then, presently, I decided it was time to head back southward.
Before heading off, I had contacted the Pure Energy Centre on Unst. I had passed it on previous visits, but came to know its work rather oddly through a comedy film by musician/actor Graham Fellows, or as he's more commonly known, his alter ego, John Shuttleworth: "Versatile singer/songwriter from Sheffield South Yorkshire", as he describes himself.
Fellows put together a comedy documentary film in the mid 2006 in his guise as John Shuttleworth, based on his theory that "it's nice up north". Essentially, his premise goes that the further north you go, the nicer people get, and he therefore surmised that people in Shetland must be the nicest people in the UK, and set out on a trip there to test this theory.
The film itself is well worth watching. It's typically gentle and unassuming comedy, with Shuttleworth interacting with locals who have no idea that he is merely a character. Paul introduced me to the film on our first visit to Shetland.
As part of the extras on the DVD, Fellows, now out of character, visited the Pure Energy Centre on Unst to see the UK's first and then only road-licensed hydrogen powered car, powered by hydrogen produced at the centre from an electrolyser powered by their wind turbines, and was shown around by the late Sandy Macauley.
When I was planning the trip, I thought immediately of the Pure Energy Centre, because there was a natural tie-in to what I was doing in terms of green technologies. I thought that they would like to see the bike and I hoped they would be happy for me to charge the bike and find out a little more about them at the same time. I had a friendly response from Ross Gazey there, who said he'd be happy for me to pop in and charge there.
So, having headed off from Skaw, it was back to Baltasound and to the Pure Energy Centre to charge and catch up with Ross. I was on an emotional high as I turned up and, after being initially unsure of the best way in, I came face to face with Ross and introduced myself. He was busily packing up items into crates. It transpired that these were wind turbine blades. Ross invited me in and put the kettle on. We then plugged the bike in to start it charging from the centre's wind turbines, or as Ross put it "from bottled Unst weather" and then he told me about the work they do, which typically involves installing and maintaining wind turbines, solar arrays, and any other renewable technologies all over the world.
Not only did Pure have the first road licensed hydrogen car in the UK, but they were also the first community wind to hydrogen system in the world. A big part of their work is its international dimension and from the outset, they were passionate about the geopolitical reasons for transitioning away from fossil fuels to community-based energy independence as far as possible, and this has seen them work across the world, including in some of the poorest regions. A very worthwhile endeavour indeed.
Ross had to pop out for a while but recommended that I headed over to the neighbouring and aptly-named shop/café, "The Final Checkout", which, yes, you've guessed it, is the UK's most northerly shop. It seemed to stock a wealth of products and the café was very welcoming, so I enjoyed a browse and then had a bite to eat and something to drink, before returning to Ross at Pure.
As we talked some more, I learnt about wind turbines some things which I had not considered: namely, that the blades over time can and indeed do become affected by the environment in which they are situated. One of the aspects of turbines near or on the sea is that they are subjected to salt, which, while obviously an issue generally from a corrosion perspective, also affects the efficacy of turbine blades themselves, the salt acting as a blasting agent on the surface of the blades and this roughening of the blade surface and edges decreasing their efficiency over time, and so, at some point, the blades have to be replaced.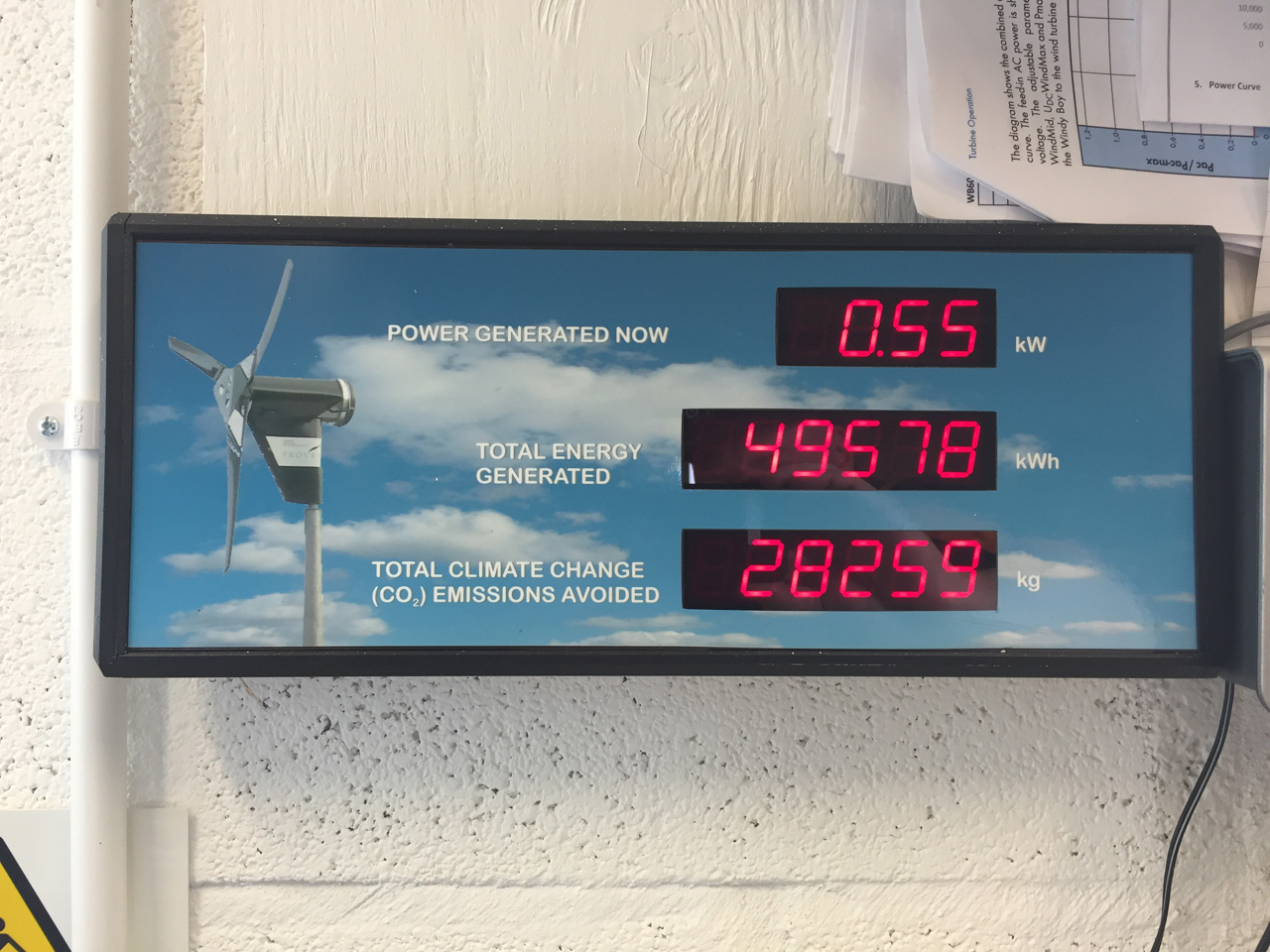 I asked about the status of renewables projects in Shetland and explained what I had encountered in Orkney. Ross was, of course, fully up-to-speed on what is happening in Orkney, and explained that the landscape of Orkney lends itself better to wind resources, because the nature of the landscape is rolling hills and of course flatter areas, whereas Shetland is more rocky than hilly. Wind of course has an easier path crossing smooth land than it does rocky surfaces.
There is of course a heritage, closeness and a natural rivalry between Shetland and Orkney and when I asked about the biggest differences in the culture of the two islands, Ross summed it up nicely by saying.
"Orcadians are farmers with boats and Shetlanders are sailors with crofts."
We also discussed vehicle power. As a hydrogen pioneer, I was wary of pushing too much on the battery electric vehicle / hydrogen fuel cell debate. I tend to think, as many others do, that the battle for the mass-market car (and indeed motorbike) will be won, and in fact is being won, by the battery electric vehicle, but that hydrogen fuel cells are ideally suited to larger forms of transport, such as buses, lorries, trains, boats, and ships.
The reality is, however, that it's not an either/or. There is indeed room for both in the electric vehicle market. A hydrogen-powered vehicle is still, after all, an electric vehicle and does still use a battery to drive its motor. Anything which serves to transition transport away from reliance on fossil fuels is to be welcomed. Ultimately, the market and practicalities of ownership of both will determine the outcome as to which of battery electric vehicle (BEV) or hydrogen fuel cell (HFC) vehicle comes to dominate the mass market.
The cloud started to close in a little and Ross suggested that rain was on its way, pointing out that you could feel the moisture in the air. I helped to load some turbine blades into the van, unplugged the bike, and put the charging cables away.
Then, at 15:18, having taken some photos in front of the turbines with Ross behind the bike and then me behind the bike in front of the Pure logo, I thanked him and headed off again, pausing briefly at the nearby landmark that is "Bobby's Bus Shelter": an initiative born out of a letter written by the son of Pure's late Sandy Macauley, Bobby, to the Shetland Times in which he asked that the recently removed (and supposedly unsafe) bus shelter be replaced.
The Shetland Islands Council obliged and then over time several items started to mysteriously appear in the bus shelter: a table, chair, microwave, and sundry decorations. This tradition has continued and the shelter is now often themed.
From there, it was a straightforward journey back to the ferry across from Unst to Yell and then from Yell to Shetland Mainland. I was pleased to see a rapid car charge point at Ulsta while I waited for the ferry. I was less pleased to see the onset of rain.
Once back on the Shetland Mainland, I didn't hang about and rode the bike at proper full road speeds, confident that I wouldn't have any problem getting to my destination for the night: Paul's house, around ten miles south of Lerwick.
As it transpired, I gauged the power/distance pretty well and arrived at his house at 17:32 with 5% battery remaining. Coincidentally, a couple of minutes later, he pulled into the driveway in his car, having just returned from work.
"That's perfect timing!" he said.
"That's bizarre!" was my response. "You heard the revving."
"The revving, yeah."
"How the devil are you, anyway?"
"Very good. So, how's it been as an experience?"
"It's been very good. It's been good meeting people."
"Going on a lap of honour?"
"No. No fear!" was the immediate reply which sprang to mind.

Of course, time, work, and finances permitting, I'd have loved to have carried on.
Thursday, 24th August, 2017
The journey completed, and having spent a pleasant evening in the company of Paul and family, who it's always good to see, I was greeted by pretty poor weather outside.
I had considered heading down to Shetland's southern tip during the morning to the Sumburgh Head lighthouse, one of Robert Stevenson's many lighthouses, which, since my last visit, had been renovated and restored into a full-blown visitor attraction and nature reserve.
Although it wasn't a crucial aspect of my journey, it would have been nice to tick off both the toe and tip of Shetland too, but given the inclement weather, I appreciated being able to have a 'day', or at least most of a day, off, my only fixed plan being to catch the ferry back from Lerwick to Aberdeen that evening.
I arranged to meet Paul for lunch in Lerwick during his lunch break, so decided to use the morning to stay indoors and work on organising some of the materials I'd gathered on the trip and also to contact people regarding press coverage. I arranged to visit BBC Shetland in the afternoon and had a phone interview with the Shetland News.
I'd also been contacted by Channel 5 News, thanks to one of my fellow Coventry and Warwickshire Advanced Motorcyclists members, who told his son, Matt, a journalist there, about my trip. Matt, another keen biker had followed my progress and asked to interview me over Skype.
As I had some time, I agreed to talk to him that morning and so, with the aid of a few books on a coffee table, I was able to balance my phone in such a way that we were able to have a decent conversation over Skype about the trip, which in itself was quite enjoyable and I was asked some good questions by Matt.
At 12:35, all packed and with the bike fully charged again, I said goodbye to my niece and nephew and headed off to Lerwick to meet Paul. I parked up and crossed the road to the Toll Clock shopping centre where I met him and we headed to the Olive Tree delicatessen/café, where we had some lunch and caught up a little more with things.
His lunch hour over, he offered to show me where BBC Radio Shetland was and so I followed him to the studio, then thanked him and said goodbye.
Entering the BBC building, I was greeted immediately and led straight through into a side studio, where I engaged in another conversation for inclusion as part of a later broadcast.
At 15:00, it was back out into the rain and I returned to the Toll Clock shopping centre to kill some time and take shelter before it was time to check in for the return ferry.
I returned to the Olive Tree, had another drink, and browsed social media and the Web for a while. Then, at 16:47, I headed the short distance to the Northlink ferry terminal and checked in, boarding the MV Hrossey a short time later.
Having found my cabin and changed into "civvies", I made a small video clip as we departed Lerwick and then went for an evening meal in the ship's restaurant.
Then, retiring to my cabin, I showered, read for a while and turned in for a good night's sleep.
Friday, 25th August, 2017
I awoke after an unusually smooth crossing from Lerwick and opened the blind to the cabin window just in time to see us pass the South Breakwater on the approach into Aberdeen, shortly before 06:30, which made a nice picture against the backdrop of the dawn sky.
I disembarked at 07:04 with the guessometer showing 88% and made my way through Aberdeen, eventually reaching the A90. From Aberdeen, I had a mere 52 miles to ride to reach Forfar, where I had arranged to meet James, who had kindly driven up from Nuneaton with the hire van to meet me.
I suggested we meet at the McDonald's in Forfar, because it's fairly easy to find and park and would give us chance to get some breakfast. There was no point in James driving all the way up to Aberdeen. 52 miles was nothing in comparison with the rest of the trip.
I maintained a steady speed of between 50-60 mph on the way down to Forfar and gauged the power usage again fairly well, so that I arrived at our rendez-vous point at 08:08 with 3% remaining. The van was easy to spot. There can't be that many Nuneaton Van Rentals vans around in a Forfar car park at any one time.
I pulled up alongside the van and then peered in. James was sleeping across the width of the front seats. I gently tapped on the window, but there seemed to be no response, so I made my way around to the passenger side and was about to tap again when I saw that he had woken up and was looking out of the driver window. I drew his attention. Then, once I'd used the back of the van as a changing room to get out of my bike gear into normal clothes, we loaded the bike into the back of the van and I got us some breakfast.
Once we'd had something to eat and drink, we headed off for the long journey back to Nuneaton.
It was nice to be a passenger for the journey back and we just chatted for most of the way back about all manner of things, to the extent that I put James off a couple of times and we had an impromptu excursion into Glasgow.
Sadly, the one aspect of planning that I had overlooked was that we were arriving back on the Friday of a Bank Holiday weekend in England, so, having made our way back through Scotland, then through the Lake District, where we stopped for some lunch at Tebay Services, we hit the inevitable M6 traffic.
Fortunately, James deftly avoided the hold-ups on the M6 and we made our way down parallel country roads, occasionally crossing the M6 to see whether it had cleared. Eventually, it did, and we jumped back on the M6, arriving back at my home at around 18:30.
We offloaded the bike, as my wife Emma came out to welcome me home.
She obliged by taking a couple of photos of us with the bike, then, having stowed the bike away, I thanked James for his time and for taking the trouble to drive all the way up to Aberdeen and back in the course of the last 24 hours, a distance which in itself was the equivalent of Land's End to John o'Groats, in addition to having driven me down to Cornwall for the start of the journey the previous week. He'd truly helped out massively with the trip. Having not been able to take part in the trip himself, he'd been invaluable.
The bike safely away, James headed off, I got back to normal home life.
Conclusions
With the benefit of a few months having elapsed since I undertook the trip, I can look back and honestly say that I thoroughly enjoyed many aspects of the journey from the outset.
I quite enjoy planning trips, so that aspect was fun; travelling the length of the country in one trip – not something I thought I'd ever do; meeting the people I met along the way; riding the motorbike in and of itself; the challenge of power management; the chance to raise some money for a couple of good causes; and of course, being the first to undertake the trip on an electric motorbike.
Mass adoption of electric vehicles is still in its early stages, with EVs comprising around 2% of new registrations in UK at the moment, contrasted with Norway, where they recently supassed 50% of all new vehicle sales.
Electric motorcycles are a fraction of EV sales for a few reasons, partly due to rider choices and partly determined by technological realities.
Many bikers ride for the sense of freedom, the joy of riding, the closeness of senses to the surrounding environment, including the sense of smell when riding through a wooded area, or indeed through areas of less nasal appeal.
Others ride for the image of bikes; for the association with their youth; for how it might make them appear to others.
There are those who ride for purely practical reasons, as a means of getting from A to B on a vehicle which is relatively cheap to run and allows rapid progress through traffic.
Across all types of riders, there are those, as there are with cars, who like the mechanics of riding a bike and who endow the art of changing gear as some kind of superhuman skill. These types will be familiar to most of us. They recoil in horror at automatic gearboxes. To them, there is no automatic system which can change gear as well as they can and any suggestion that this might not be the case is taken as a personal affront.
I find this quite a funny trait, but I kind of understand it, especially when it comes to automatic gearboxes in traditional ICE vehicles. It is undoubtedly a pleasant sensation to blip the revs when changing down a gear on a bike, for instance.
But electric vehicles are quite different. An electric motor, unlike a geared ICE, offers full torque all the way through its range, making a gearbox wholly unnecessary, certainly for road vehicles.
True, in the electric car racing series, Formula E, some teams opt to gear their cars, but they are racing at the top end of performance, and even then, other teams have decided against gears, as they add extra complexity, weight, more failure points, and potential for human error.
They are certainly just unnecessary on consumer electric motorbikes or cars in any case, and naturally, some people are put off by this. In the case of bikers, the very notion of a bike which doesn't make a loud noise and doesn't have gears or a clutch lever is anathema to very many bikers
For me, I ride bikes because I enjoy the riding experience. I'm very much not a typical biker, not recognising many models of bike, and I have basic maintenance skills, with oil changes and other such standard maintenance tasks being about my limit. Of course, these don't even exist on electric bikes and there is no chain oil flung up against the wheels or other parts of the bike.
So, while electric bikes are less likely to appeal to grease monkeys, their very simplicity, efficiency, and performance appeal to me.
I fall into the category of a biker who likes the experience of riding and have often employed the phrase uttered by the character Oddball from the film Kelly's Heroes, who, when queried as to why he is not helping to fix his broken-down tank responds with.
"Hey, I only ride 'em. I don't know what makes 'em work."
But I do understand. I'm not in the least anti-petrol bike: I still own and enjoy riding one, and yes, I do enjoy changing the gear, but does having no gearbox detract from the riding experience for me? Not at all.
With regard specifically to the Zero, it is a great bike, a joy to ride, and served me well on this journey. It didn't let me down in any way once, and thanks to some careful planning at the outset, I was never stranded at the side of the road.
The one area which will need to be resolved for electric motorbikes to gain mass market appeal, however, is for them to reach a stage where we can tour on them. Where I can load up with luggage and ride down to the Alps stopping only for around 20-30 minutes every 200 miles or so to rapid charge.
Without true rapid charging, and indeed that built into the bike at no extra cost, as is the case with electric cars, my feeling is that their appeal will be limited to those who want to commute or stick to short distances.
And perhaps that is enough for many manufacturers, but one thing's for certain: the company which does make the first electric long-range sports-tourer will do very well out of them. They've certainly got a sale from me, so long as it looks like a tasteful, conventional bike and not like a hideous design experiment.
And what of the wider area of electric cars?
For my part, as far as cars go, my four-year old Nissan LEAF BEV already meets our family's needs perfectly well with its range, even if it requires rapid charging stops on longer journeys. And at the time of writing, Nissan have recently brought to market the second iteration of the LEAF, whose battery capacity has almost doubled that of my car, but at the same cost to the consumer.
I actually appreciate not having to go to a dedicated filling station to regularly fill up the car or electric motorbike, because it's simple routine to get them home and plug them in. It sounds trivial, but as I still ride a petrol motorbike, I can honestly say that having to go to a special place to fuel up does become an inconvenience once you've adjusted your behaviour to charge at home most of the time.
The biggest inconvenience from my perspective with electric cars is a still insufficient number of rapid chargers spread across the country to facilitate longer journeys.
To reiterate, electric vehicles are already suitable for almost everyone. The issue is not the technology in the vehicles, which will continue to improve, but the charging infrastructure. What's encouraging in this respect is that even Shell and BP have realised the direction of travel and are starting to install rapid chargers on their forecourts.
In the early 20th century, the transition from horse to motor car happened over a short space of time and snowballed. Electric vehicles are likely to reach a tipping point in the very near future. The government has already declared that new wholly Internal Combustion Engine vehicles will no longer be permitted to be sold from 2040 and recently declared that it would like to see a transition to electric by 2030.
I have a sneaking suspicion that the transition will happen before then.
Afterword
Before I started the trip, I had investigated applying to the Guinness Book of Records, but after some consideration, I decided that it was not really worth it for a number of reasons:
Firstly, as technology improves and the journey becomes easier, any record I set would be easily broken. At the time of writing the new version of my bike has already reduced charging time through its optional 6kW Charge Tank to around 2 hours, so the time will be constantly improved.
Secondly, the Guinness Book of Records is all about superlatives. Being the first to do something is not necessarily that significant from that perspective.
Thirdly, I wanted to enjoy the trip. I could have made it into an endurance quest and just ridden then charged constantly all the way up, but that would not have been as enjoyable. I particularly wanted to enjoy rising the small Highland roads and coastal roads up to John o'Groats.
Finally, I didn't need recognition from Guinness. I knew I'd done the journey myself and in any case, I had managed to capture video footage of the whole journey from start to finish to prove that I had done so. Being the first was privilege enough, without recognition from anyone else.
Acknowledgements
I have many people to thank their support on the trip, so roughly in chronological order:
James and Kate
For their support, and for trying to balance James' desire to come along on the trip with a matter of far more pressing importance! To James especially for nevertheless driving me and the bike down to Cornwall and collecting me from Forfar.
Streetbike, Halesowen
Special thanks to Streetbike, firstly for their faith in electric motorbikes and their insistence in supporting them through their early years, in the full knowledge that they are the future. Special thanks for initially offering James the use of the demo bike for the journey, even if he couldn't take up the offer ultimately, and for liaising with Zero in the Netherlands and persuading them to lend me the Quiq chargers for the trip, without which it wouldn't have been viable in the timeframe. Alex, Jason, and colleagues: you're great!
Northlink Ferries
For sponsoring the three main ferry crossings between Scrabster and Stromness, Kirkwall and Lerwick, and Lerwick and Aberdeen.
Janet and Bob at Weavers B&B
For letting me charge and providing me with a pleasant first night's stay.
Louise Thompson
For the great photos at Land's End.
Kay and John Bickley at Upcott House
For letting me charge, your hospitality, offering me drinks, interesting conversation and showing me around your impressive property.
Sidcot Arms, Winscombe
For the charge while I enjoyed a nice evening meal.
Fiona Bunting, Grove Farm B&B, Kimbolton
For the stable for the bike, overnight charge, and helping me out, despite my late arrival.
Chris Thompson
For accompanying on one leg of the trip and company at the following stop.
Neal Thacker and staff at The Partridge, Lower Stretton
For the charge, great porridge, and lovely surroundings.
Trev and Liz Crawford at the Duke of Cumberland, Kendal
For the charge and a very nice evening meal.
Paul Higgins, Carlisle
For the company while charging in Carlisle and proper introduction to infrared panel heaters.
John and Helen Damer, Holmlands B&B, Crawford
For staying up late to welcome me and for the overnight charge.
Graham and Nan Waugh, Fendoch Guest House, Crieff
For your friendly welcome, letting me charge, entertaining me, feeding and watering me, and offering me the use of a guest's bathroom. A great pleasure to meet you!
Gareth Paschke, Cairn Hotel, Carrbridge
For the cheerful welcome, the use of your car port to charge the bike, a pleasant stay in your nice hotel in a lovely location, and for the proper porridge at breakfast.
The Sutherland Inn, Brora
For allowing me to charge, the great time I spent chatting with regulars Donnie and Billy. To Donnie for the generous contribution to the fundraising, and for a very pleasant early afternoon in a nice location.
Sandy and Ron Barton, Bencorragh House Bed & Breakfast, Upper Gills
For allowing me to charge overnight and a homely stay, accompanied by very friendly cats.
Jonathan Porterfield of Eco Cars, Orkney
For the welcome on Orkney, arranging the interview with BBC Radio Orkney, meeting up with the other folks you'd lined up to see, showing me around and the visit to Hammars Hill Wind Farm, the footage you filmed, the interview you gave, inviting me to the meeting in the afternoon, and generally making me feel welcomed, and of course… letting me charge the bike at your house.
Ross Gazey of Pure Energy Centre, Unst, Shetland
For taking the time out of your busy schedule to explain to me the work of Pure and talk about green technologies more generally, and of course for the "bottled Unst weather" from your wind turbines, which allowed me to ride to my brother's house, south of Lerwick
Paul Chivers and Family, Shetland
Well, it would be rude not to thank my own brother and family for their usual hospitality in Shetland and for feeding me and the bike. Paul, for meeting up with me over your lunch hour and then showing me to BBC Radio Shetland.
Matt Spencer
For co-ordinating the ITN 5 News coverage, interviewing me, and genuine interest in following my journey.
Coventry and Warwickshire Advanced Motorcyclists
For their support; for helping me to constantly improve my riding and for fostering a healthy mentality of continuous improvement in members; for supporting me in my role as a trainer; and for not taking the mickey out of my electric bike… too much!
Emma and the kids
For their ongoing love and support and for putting up with a rather odd hubby/daddy.
People who've made donations
Thank you to everyone who has kindly donated in support of the fundraising efforts. Every penny is appreciated.
Finally, not one of the places I stopped and charged at asked for any money, even when offered. It wouldn't have been a huge amount at any rate, but it was still a nice gesture. Thank you to all of you.
Videos
Summary Video
Playlist of Daily Videos
Press Coverage