Land's End to John o'Groats to Skaw by Energica EVA Ribelle Electric Motorcycle
I have ridden an electric motorcycle on the classic and recognised UK 'end-to-end' route from Land's End to John O'Groats on two occasions.
2017 Journey
In August 2017, I did the journey on my Zero DSR electric motorcycle, which at the time was a stock model with no in-built fast charger (Charge Tank). To help make the journey feasible within a sensible time frame, my Zero dealer Streetbike in Halesowen very kindly arranged for me to borrow two external Quiq chargers (external chargers), which I had to carry in a top box, along with a plethora of cables to faciliate charging from three domestic standard sockets, where required, or a public fast charger. With a 3.2 kW charge limit, this meant that each charge, after around 85 miles, took three hours, and so I split the mainland part of the journey over four days.
Given the timescales involved, I was assisted in my journey by friend and fellow EV advocate James Coates, who drove me and the Zero in a van down to Land's End and then met me for the return journey in Forfar.
For more details on the 2017 journey, visit the Zero DSR (2017 Journey) page.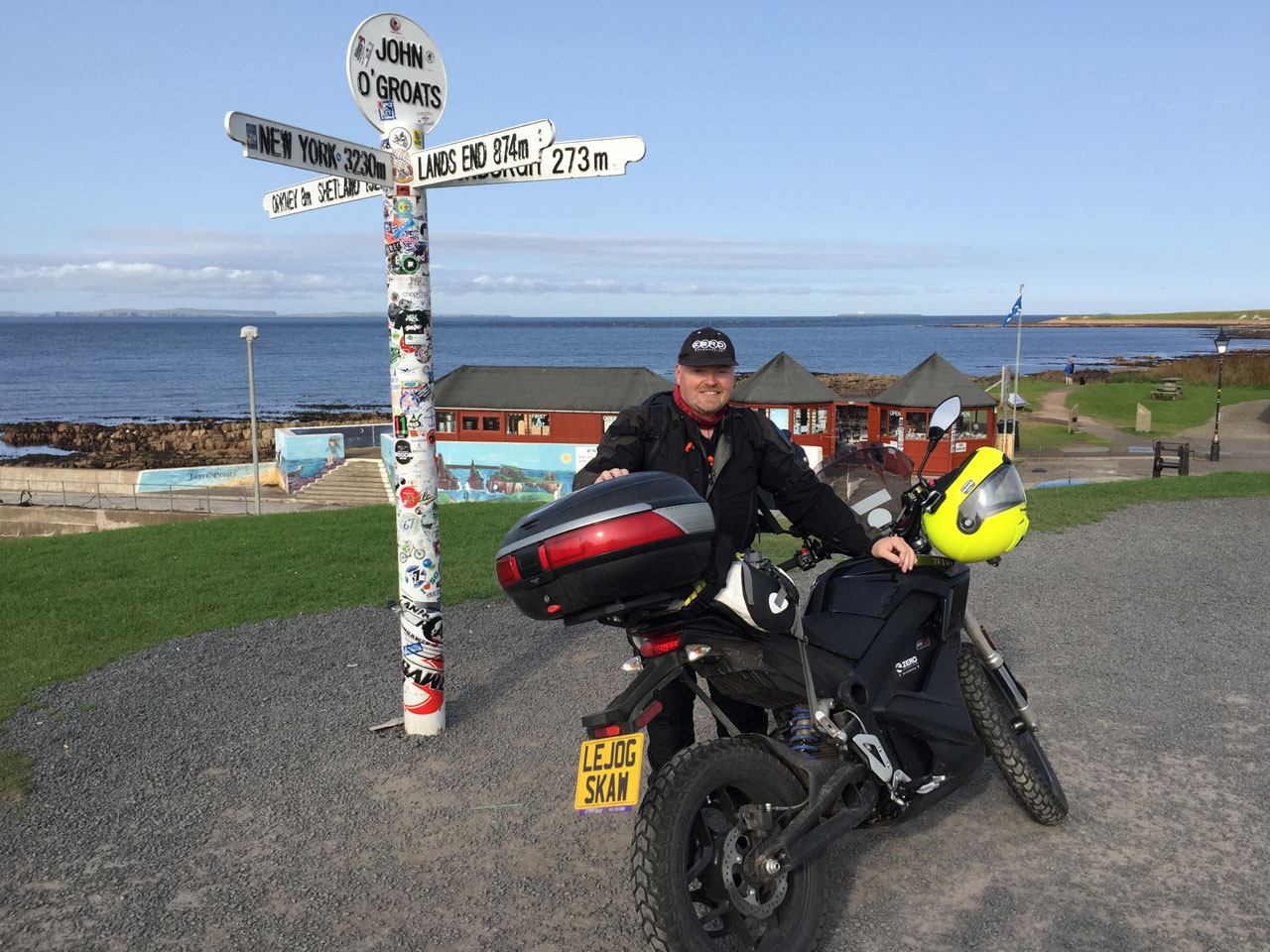 2022 Journey
In June 2022, a couple of months after taking delivery of my new Energica EVA Ribelle electric motorcycle, I completed the same journey again, from the bottom to the top of the UK mainland on the end-to-end route and then across Orkney and on to the top of Shetland.
On this second journey, I was accompanied by James for the whole journey, who made the journey courtesy of a loan bike from Energica UK and English Electric Motor Company.
The interesting challenge on the second journey was to try to do the 862 mile (1387 km) journey in one go, without any overnight stops and to contrast how things had moved on in the intervening 5 years with charging infrastructure, whether two of us could complete the journey, and to see for ourselves the difference the motorcycle's ability to rapid charge would make to the journey.
For more details on the 2022 journey, visit the Energica EVA Ribelle (2022 Journey) page.